On the occasion of Maha Shivaratri, TSRTC has provided special services to 40 prominent Shaivite shrines. 2,427 buses are running for this purpose. RTC revealed that these services will be available between 17th and 19th.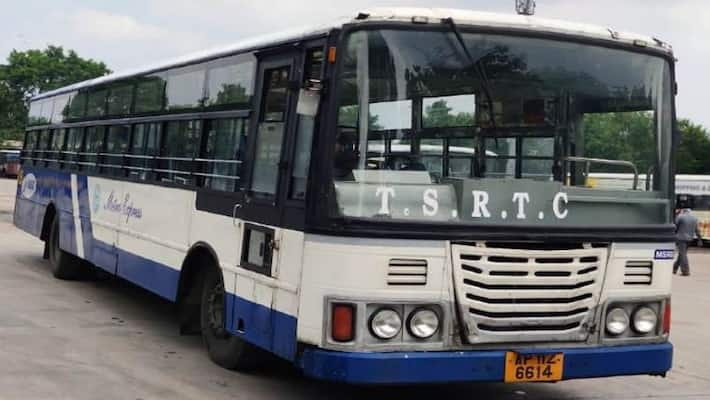 First Published Feb 17, 2023, 5:44 PM IST
On the occasion of Maha Shivratri, TSRTC has made all arrangements for the transportation of devotees to famous Shaivite temples. Special services will be made available to 40 Shaivite temples from various parts of the state. 2,427 special buses are running for this purpose. These services will be available from 17th to 19th. TSRTC disclosed this in a statement. It is known that there is Mahashivratri festival on 18th of this month.
Special services mainly include 578 buses to Srisailam in Andhra Pradesh, 481 buses to Vemulawada, 239 buses to Keesaragutta, 497 buses to Edupaya, 108 buses to Vela, 51 buses to Kaleswaram, 52 buses to Komuravelli, 37 buses to Kondagattu, 16 buses to Alampur, 15 buses to Ramappa and 14 buses to Uma Maheswaram. . TSRTC has made arrangements to run some more services in accordance with the rush so that the devotees going to these holy places do not face any difficulties.
Also Read: TS RTC bumper offer for Sankranti.. Discount on tickets.. Here are the details..
Special buses will be available from MGBS, JBS, Dilsukh Nagar, IS Sadan, KPHB and BHEL in Hyderabad especially to Srisailam shrine, TSRTC said. It explained that advance reservation facility has been provided for these services.
TSRTC Chairman, MLA Bajireddy Govardhan, Institute MD, IPS VC Sajjanar said that the TSRTC management is taking all measures to avoid any inconvenience to the devotees on the occasion of Mahashivratri. Devotees are advised to use these services to safely visit the shrines and pay their prayers. They also said on this occasion that they are providing 10 percent discount on the rental buses and devotees should use all the facilities of the rental bus.
Last Updated Feb 17, 2023, 5:44 PM IST
.