England cricketer Harry Brooke achieved a rare feat. So far he has scored 807 runs in 9 innings. Thus he erased a record held by former Indian player Vinod Kambli.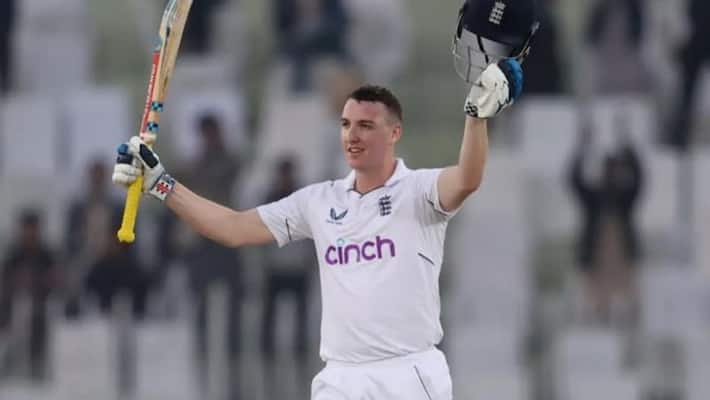 First Published Feb 24, 2023, 10:38 PM IST
England cricketer Harry Brooke achieved a rare feat. He became the first cricketer to score more than 8 hundred runs in 9 innings in the 145-year history of Test cricket. So far, he broke the record of former Indian cricketer Vinod Kambli (798) who has scored the most runs in 9 innings. Vinod is preceded by Herbert Sutlkiff (780), Sunil Gavaskar (778) and Everton Weekes (777). Currently, the England team is playing a Test series against New Zealand. In the second test, Harry was on 184 runs. On the other hand, Joe Root (101) also scored a century. Both of them added a record 294 runs for the fourth wicket. As a result, the English team scored 315 runs for the loss of 3 wickets at the end of the first day's play.
In the second test, the Kiwis won the toss and handed over the batting to England. At first a huge shock hit England. The team's openers Jack Crawley (2), Ben Duckett (9) and Ollie Pope (10) also failed. But with the help of former skipper Joe Root, the sky was the limit for Brooke. Brooke, who played aggressively from the beginning, got excited with fours and sixes. His century was completed in 107 balls. It is noteworthy that Brook, who reached fifty and hundred fours, also achieved 150 in the same way. While Brooke was thrashing the Kiwis bowlers, Root played a full game. He reached the century with singles and doubles.
ALso Read: Brook who was beaten before the rain..England continues to push
After Root's century in this match, the rain started in the 65th over. Still Brook.. stood 16 runs away from a double century. Had the rain not interfered, he would have scored a double century. Another 25 overs were rained out. By scoring a century in this match, Brooke received a record.
Meanwhile, Sunrisers Hyderabad bought Harry Brook for Rs.13.25 crores for the upcoming Indian Premier League. He will make his debut in IPL for the first time through this season. It is noteworthy that the test he is currently playing against New Zealand is his sixth test. In the England team that toured Pakistan last year, he not only scored centuries but also broke records.
Last Updated Feb 24, 2023, 10:38 PM IST
.