A strange high drama in the Women's National Cricket League final… South Australia team Scorpions lost 5 wickets without scoring 4 runs in the last over.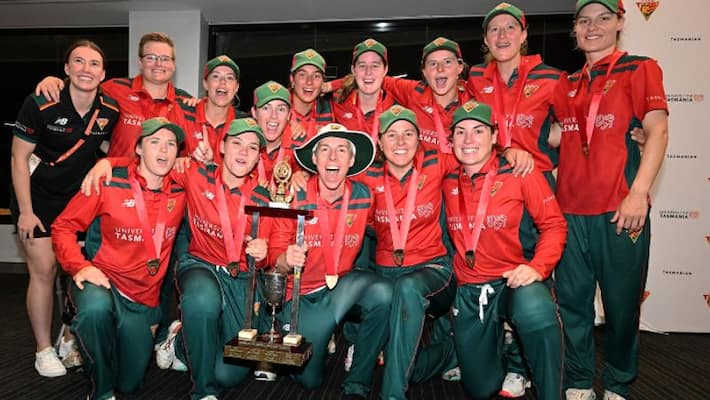 First Published Feb 26, 2023, 11:58 AM IST
After the arrival of T20 cricket, even if you have to score 36 runs in the last over, it is not impossible to win. There are many hitters who hit six sixes in the over. Such a team lost when they needed just 4 runs from 6 balls to win. Even though they had 5 wickets in hand, they could not hit a single four, they lost 5 wickets and lost by 1 run… Although it is strange to hear, the incident happened in the final match between Scorpions and Tasmania teams in the Women's National Cricket League…
Batting first, the Tasmanian team scored 264 runs in the stipulated 50 overs and were bowled out. Lizelle Lee scored 48 runs off 46 balls with 5 fours and 2 sixes while captain Elisa Villani scored 110 runs off 126 balls with 10 fours. Naomi Stallenberg scored 75 runs off 89 balls with 4 fours and a six…
As per the DLS system, the Scorpions team was set a target of 242 runs in 47 overs as the rain interrupted the play for a short time. Emma de Brog scored 68 and Courtney Webb scored 83. Annie O'Neill scored 28 and Gemma Barsey scored 28 runs. At the end of the 46th over, the Scorpions team scored 239 runs for the loss of 5 wickets. 5 wickets in hand. A single bowler can become the champion of the Women's Nations Cricket League.
But Annie O'Neill clean bowled the first ball. A single came off the next ball. 3 runs in the remaining 4 balls is enough. But Gemma Barsi tries a huge shot and gets out. Amanda Wellington was run out on the next ball. Ella Wilson joined the pavilion with an lbw off the fifth ball. Anisu Busangwe was also run out on the last ball.
With this, 1 run was lost in the last over and 5 wickets were lost and they were all out for 241 runs. The Tasmanian team, which was fixed that the match was lost, got a sensational victory by 1 run. The Women's National Cricket League, with 7 teams, started in the 1996-97 season. New South Wales, Australian Capital Territory, Queensland, South Australia, Tasmania, Victoria, Western Australia teams are participating in this.. South Australia team nickname Scorpions…
Last Updated Feb 26, 2023, 11:58 AM IST
.