The stage is set for the 95th Oscar Awards ceremony. These celebrations are going to be held in Los Angeles in America in a few hours. But this time there is going to be an unexpected change in the celebrations. After almost 60 years, arrangements have been made to hold the ceremony anew.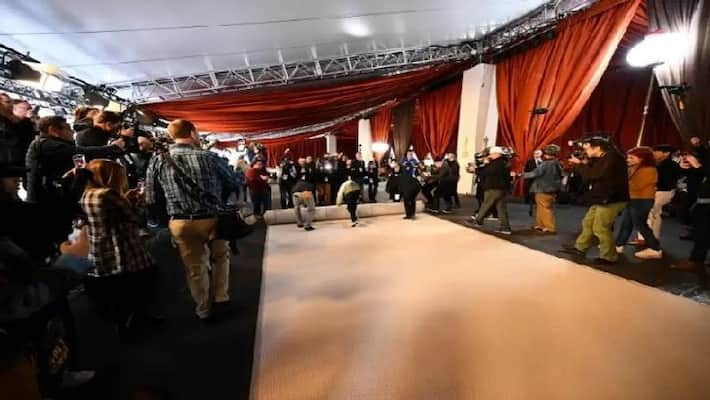 First Published Mar 12, 2023, 2:46 PM IST
Everything is ready for the awaited Oscar celebrations around the world. The city of Los Angeles is primed for the Academy Awards ceremony. But this time the organizers made a small change in Mustabu. Even though the change is small, it is going to be something special. That is.. the most important thing in the Oscar ceremony is the red carpet. All the big actors from all over the world are eagerly waiting to walk on this carpet at least once. Waiting for that opportunity. But not everyone has that opportunity. This time, the Oscar Academy has changed the color of the red carpet.
The red carpet tradition at the Oscars dates back to 1961. Film stars have started walking on the red carpet from the 33rd Academy Award ceremony. Raanu Raanu It has become a great honor. This time, the Oscar Academy has changed the color of the carpet to champagne color. The reasons for this are not known, but the academy is ready to change the policy it has been following for almost 60 years.
Wherever the award ceremony is held in all corners of the world, the red carpet is very important. At prestigious award ceremonies like Oscars, at least if you get a chance to walk on the red carpet, you would think it would be enough. And the heroines are also doing catwalks on this carpet. In such a sequence.. everyone is waiting to see how the carpet will look if it is changed to champagne color. Meanwhile, the Academy has made huge arrangements for the Oscar ceremony to be held at Dolby Theaters in Hollywood.
Jimmy Kimmel will host the Academy Awards ceremony for the third time. And this time the Oscar ceremony will be very special for Indians. In the original song category of RRR movie from our country especially from Telugu industry.. Natunatu song will compete for Oscar. RRR has already gained international fame and is one step away from Oscar. Rajamouli has been struggling in Hollywood for a few months while promoting the movie team RRR including Ram Charan and NTR. Everyone is confident that the Natunatu song will get an Oscar.
Last Updated Mar 12, 2023, 2:46 PM IST
.