A father decides to remarry for the financial future of his daughters. That too he will marry his wife through the Special Marriage Act.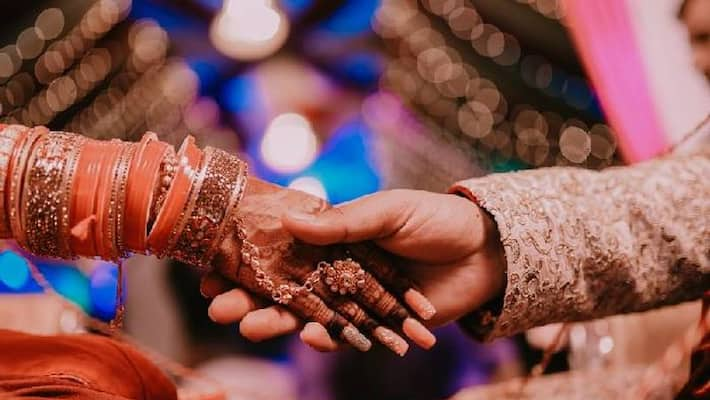 First Published Mar 7, 2023, 1:05 PM IST
Kerala: We see people getting second marriage either for son or daughter. But here a couple is remarrying for their daughters.. It is customary for a once married couple to complete shashti after 60 years. But a couple in Kerala is remarrying to provide financial security to their daughters. Their marriage will take place on March 8. This strange wedding will take place in Kasaragod district of Kerala. The details of this wedding are as follows.
C Shukur is an actor and lawyer. His wife Sheena is a former Vice Chancellor of Mahatma Gandhi University. Now both of them are getting married once again. This Muslim couple is about to unite once again in a special wedding. The intention behind this is to give financial future to their daughters. According to Muslim inheritance laws daughters get only two-thirds of the father's property. . If they have no heir then the entire property will go to the father's brothers.
RSS is a secret society.. Comparison with Muslim Brotherhood.. Rahul Gandhi in London
They want to register their marriage under the Special Marriage Act to avoid injustice to their daughters. Through this, they hope to change the situation that their daughters will face in the future. After witnessing two such incidents in the last week, they have come to the conclusion that such a thing should not happen to their daughters. According to Sharia law, it is not possible to leave the will alone.
The couple said they were worried and decided to do this. They said that because their daughters are girls, they have to face such discrimination. The only way to get them out of this is to get married again through the Special Marriage Act. They said that they want to get married again through the special marriage law to end the gender discrimination faced by the girl child in Muslim families.
They confidently said that this will help the girls to live with self-confidence and dignity and at the same time they made it clear that it is not their preference to oppose Sharia laws. Shukur said many parents of only girls come to her about their struggles. They got married on October 6, 1994. According to the Special Marriage Act, they will remarry on March 8 this year in the presence of their daughters at the sub-register office of Kanhangadu in Hos Durg taluk of Kasargod district, Shukur said on social media.
Last Updated Mar 7, 2023, 1:05 PM IST
.