Renowned producer and director Tammareddy Bharadwaja criticized the RRR team. His comments on the RRR film unit are currently the talk of the industry.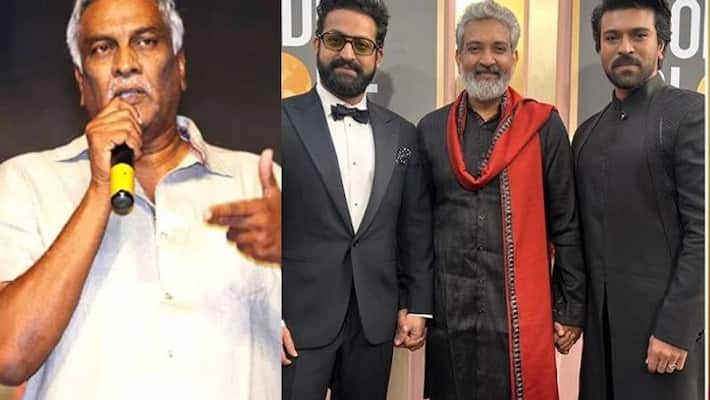 First Published Mar 9, 2023, 1:38 PM IST
The movie RRR spread the fame of Telugu cinema all over the world. Director Rajamouli is the man who has shown the strength of Telugu cinema. If Telugu cinema is growing so high.. there is no need to be surprised if efforts are made to push back not from the industries of the neighboring states, but from Bollywood.. But criticism of Triple R from own industry means.. Aura says audience. Yes it is true. If it was a netizen on social media who made the criticism… or if it was the audience who watched the movie, they wouldn't care much… but Tollywood movie celebrities are criticizing RRR. Due to this, fans and movie lovers are working hard on them.
The comments made by famous producer and director Tammareddy Bharadwaja on Triple R team are shaking the industry. He made sensational comments on the RRR film unit. Speaking in a press meet recently, Tammareddy made these comments when there were questions about the budget of Tollywood films. When the topic of budget came up, he said.. 200 crores were spent for Baahubali. But the movie became a hit, so that's enough… What would have happened if the movie had flopped? Then everyone thought Rajamouli a madman. Tammareddy commented that everyone was surprised that anyone would pay 200 crores for a local film.
Not only that, because Baahubali was a success, big films are coming now. Otherwise, we would not have seen such films, said Tammareddy. Now crores are being spent on new movie promotions. The RRR team does the same. About 80 crores are being spent on Oscar promotions. Wearing suits, buying flight tickets… traveling abroad… spending money. He said that if you give me the same 80 crores, I will make 8 films. With this, Tammareddy's comments are going viral. Fans and audience are angry with Tammareddy.
And RRR movie went to Oscar. A step closer to winning an Oscar. Won many international awards. It also won the Golden Globe, equivalent to an Oscar. RRR has also received the praise of legendary filmmakers worldwide. Forgetting the glory of this movie, it seems strange to everyone to criticize the industry itself. With the Oscar celebrations on 12th of this month, the RRR team is buzzing in America. Rajamouli has been staying there for the past few months and promoting RRR more. Rajamouli, Keeravani, Ram Charan, Senthil Kumar, NTR and some other team are already there and giving interviews.
Last Updated Mar 9, 2023, 1:38 PM IST
.