In America, 2 banks went bankrupt in 2 days. After Silicon Valley Bank, now another American bank has gone bankrupt,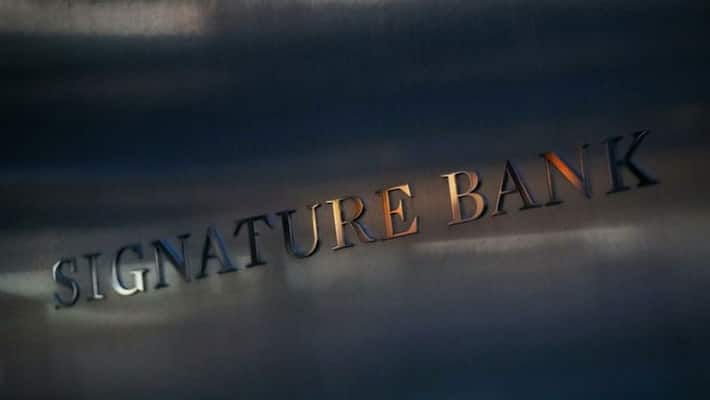 First Published Mar 13, 2023, 5:16 PM IST
Another bank collapsed in America. Signature Bank in New York went bankrupt. After the collapse of a Silicon Valley bank, another bank collapse hit banking stocks around the world. With two banks collapsing within a week, everyone feared that the global financial sector would fall into recession again. But President Joe Biden has ordered emergency measures to prevent more bank failures. The collapse of the 11,000 crore-asset Signature Bank has left many investors worried. The banking and insurance authorities have promised to refund the money to the depositors.
Meanwhile, HSBC has taken over the British branch of Silicon Valley Bank. HSBC is Europe's largest bank. The acquisition process was initiated to resolve the crisis in the wake of the closure of Silicon Valley Bank in America. HSBC, on the other hand, has already announced that Silicon Valley Bank will offer better services to UK customers.
Silicon Valley Bank is one of the largest commercial banks in America. The Federal Deposit Insurance Corporation has already seized the bank's assets. This is the biggest banking crisis since the 2008 financial crisis.
Silicon Valley Bank owners SVB Financial Group on Wednesday announced a stake sale worth $175 crore (roughly Rs 14,300 crore). Many problems started in this background. SVB Group explained that the move was taken as part of reducing the loss on the company's balance sheet. But this led to a fall in the bank's share value. Most of SVB Bank's clients are Silicon Valley startups and startup investors. Attempting to withdraw the amount at once has given rise to the crisis.
2 banks have sunk in America in last 2 days. After the collapse of Silicon Valley Bank, America's Signature Bank has also gone bankrupt. In the last 2 days, 2 banks were closed in America.. Even after that, the American markets gained momentum. The American markets responded positively in the wake of the American government's assurance to the people that the money of the depositors is safe and they can withdraw their money.
Last Updated Mar 13, 2023, 5:16 PM IST
.