In the 'Talk Easy' show, Ram Charan's fan video showed NTR as a side actor in the anchor RRR film. NTR fans are giving counters to this.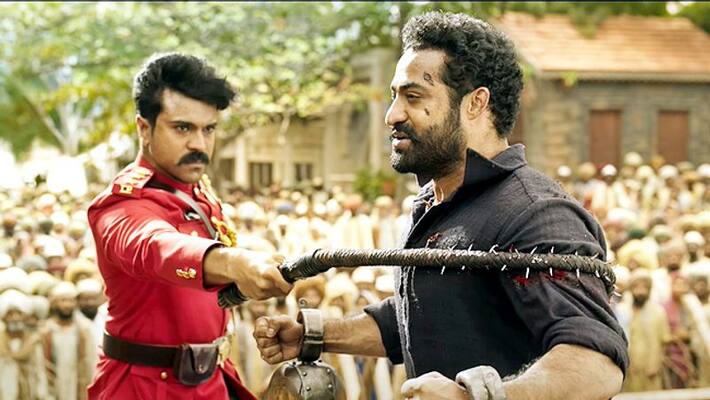 First Published Mar 9, 2023, 5:15 PM IST
The feud between Nandamuri and Mega fans is not recent. Lasts for decades. It has been proved that even Rajamouli cannot get away from it. The news of NTR-Ram Charan acting together has created a stir. How is this possible, if there is a difference, quarrels are inevitable. Rajamouli will have to face severe criticism from the fans if he underestimates anyone. That is a big challenge for Rajamouli. The reason is that the story and stories are the life of any movie.
While making a multi-starrer, scenes, songs and priority for two heroes cannot be screened too much. If so, how can it be a movie? How does the emotional ripen? If we take the recently released Waltheru Veeraya movie… Ravi Teja's role has been given a lot of weight. Chiranjeevi acted less than Ravi Teja's role. The director convinced the audience that it was an elder brother's love for his younger brother. Chiranjeevi-Ravi Tejala's image and stardom are very different. But both acted as part of the story.
When it comes to RRR… Charan, who keeps in mind the emotions of Rajamouli's fans, has designed the characters of NTR. His intro gave him equal screen space. But Charan is guiding NTR's character. Ram is an educated policeman, while Bhim is a wild child of the Gond race. Perhaps that is why Rajamouli has shown the character of Bheem as innocent and Ram as intelligent. Also, NTR's character does not have as many shades as Charan's character. However, Rajamouli has written excellent scenes for NTR as well.
Ever since the release of the movie, the war between Ram Charan and NTR fans has been going on. They argue that if our man is great, then our man is great. The cheap acts of fans of these two heroes have been highlighted at the international level. A company like HCA has had to be complacent. Recently Charan's fans are making a video viral saying that NTR is a side actor in RRR movie. Ram Charan participated in 'Talk Easy with Sam Pragoso' show.
In this show, Charan's fans are making an edited video viral, mocking the host NTR as a side actor. As a counter to that, NTR fans took out the original video. The host did not call NTR a side actor, but an actor who acted alongside Charan (along side actor). Charan's fans are angry that they are editing it and promoting it as a side actor. As the Oscar ceremony is going to be held in next two days, fans of NTR and Charan are engaging in depraved actions on social media.
Last Updated Mar 9, 2023, 5:15 PM IST
.