Army Chopper Crash: Both pilots lost their lives in an Indian Army Cheetah helicopter crash in Arunachal Pradesh. The pilots have been identified as Lt Col VVB Reddy and Major Jayant A. Both bodies were recovered from the accident site. This was confirmed by a spokesperson of the Ministry of Defence.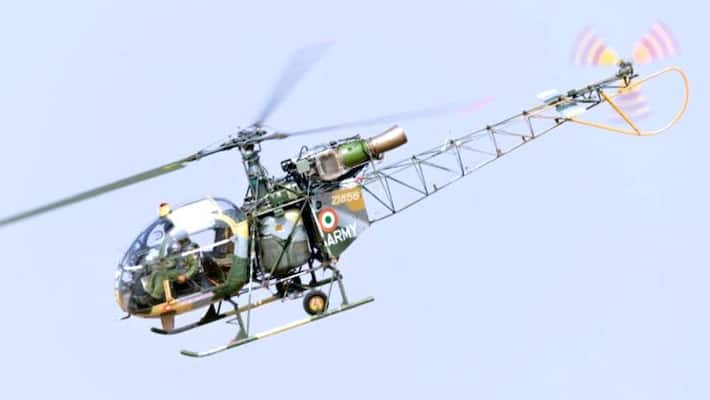 First Published Mar 17, 2023, 7:05 AM IST
Army Chopper Crash: An Army Cheetah chopper crashed in Arunachal Pradesh's Bomdila on Thursday. West Kameng district SP BR Bomareddy told Amar Ujala that both the pilots died in the helicopter crash. The bodies of the dead pilots were identified as Lt Col VVB Reddy and Major Jayant A. recovered from the crash site. Both the dead bodies will be shifted to the nearest hospital and the final steps will be taken. The bodies were found around 4 pm. Army has ordered an inquiry.
The Army Eastern Command tweeted about the incident, "Officials of all ranks, including Lt. Gen. RP Kalita, paid tribute to VVB Reddy and Major Jayant A who lost their lives in the line of duty in Mandla, Arunachal Pradesh." The Indian Army stands by the families of the martyred soldiers.
An Army Cheetah helicopter crashed on Thursday morning near Mandla, west of Bomdila in Arunachal Pradesh. The army said the helicopter took off from Sange village in the district at 9 am and was on its way to Missamari in Assam's Sonitpur district. It seems that this incident took place near Bomdila in Arunachal Pradesh.
Defense spokesperson Lt Col Mahendra Rawat said that around 9.15 am on Thursday, the Army Aviation's Cheetah helicopter lost contact with the ATC. Army officials immediately started rescue operations. A senior officer, crew and pilot were on board the chopper at the time of the accident. It was later learned that the helicopter had crashed near Mandal, west of Bomidila.
A similar incident happened in October last year
On October 5 last year, an Army Cheetah helicopter crashed in Tawang, Arunachal Pradesh. Two army pilots were injured in the accident and one died while undergoing treatment. After receiving information about the accident, a relief rescue team reached the spot and then pulled out the two seriously injured pilots and rushed them to the hospital in an ambulance. One of the two pilots, Lt Col Saurabh Yadav, died while undergoing treatment. This is not the first helicopter accident in Tawang.
In 2017, five IAF personnel and two Army officers were killed when an Air Force Mi-17 V5 helicopter crashed. A similar accident happened in the month of March 2022. A Cheetah helicopter crashed in Baraum area of ​​Gurage sector in Jammu and Kashmir. In this incident, the co-pilot was killed and the pilot was seriously injured. Later he also died while undergoing treatment.
Last Updated Mar 17, 2023, 7:05 AM IST
.