Agra: 32 Bangladeshi citizens living illegally in Agra were arrested. Agra police have arrested 32 Bangladeshi nationals, including four children, who have been living illegally in the country for 12 years, officials said. They were detained following the alert of intelligence agencies.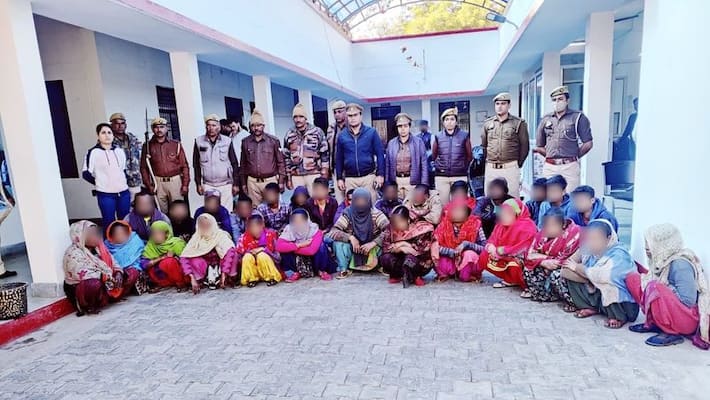 First Published Feb 8, 2023, 8:26 AM IST
32 Bangladeshi nationals arrested: Agra police arrested 32 Bangladeshi nationals living illegally in the country on Tuesday. The arrests came three days before the arrival of the G-20 guests. The district administration and police are busy decorating Agra with full enthusiasm to welcome the guests of G20 countries who will arrive on February 10 and stay till February 12. Keeping this in mind, intelligence wing teams have also become active in Agra, resulting in the arrest of 32 suspected Bangladeshi infiltrators by the Agra police on Tuesday. Among them, 15 are men, 13 are women and four are children. While the adults were sent to jail, the children were placed in juvenile homes.
These Bangladeshis have built huts and settled in Sector 4 of Awas Vikas Colony in Agra. 35 Aadhaar cards and one PAN card were seized from them. A case has been registered against all of them at Sikandra Police Station under the Foreigners Act for having fake documents, committing fraud. Sources said that a team of the Intelligence Department received information about the Bangladeshis and on the basis of that, searches were conducted at Awas Vikas Sector 4 in Sikandra area. In this sequence, Agra DCP Vikas Kumar said that 32 Bangladeshis living illegally in the area and who had acquired Indian citizenship in Doddidari were arrested and sent to jail, India Today reported.
According to the article, Halim, a Bangladeshi national, said that he is a resident of Barorhat district and has been living in Agra for 12 years. He said that several companions entered India with him through an agent in West Bengal and they all live in different states of the country. He got identity documents prepared through brokers. They said they mostly work as garbage collectors and send money to their countries through hawala. There is a river between a village in Bangladesh and the border of West Bengal. Brokers active in the border villages charge Rs 15,000 – 20,000 to cross the river. It is reported that they reach Sealdah-Howrah by rural route and then come by train to cities like Chennai, Delhi, Agra etc. to start scrap business.
Halim said that the preparation of Aadhaar card, PAN card and duplicate documents cost about Rs.1,000. Many people have also taken LIC policy. A related article states that many such agents are active in Agra as well. DCP Vikas Kumar said that they are examining the seized documents. Strict legal action will be taken if found guilty of this forgery. More Bangladeshis are likely to be arrested in Agra. The Intelligence Bureau received information that there were more than 200 Bangladeshis in Agra. Social worker Vijay Upadhyay said that this is not the first case in Sikandra area. In 2019, Bangladeshis settled in empty space. It was here that the police arrested a Bangladeshi named Saeed ul Hasan Ghazi. It is reported that he built a big house there and also bought a car and a plot.
In 2017, a Bangladeshi woman named Fatima, who was circulating fake currency under the guise of selling vegetables, was arrested in Etmadudaula area. NIA investigation revealed that she came to India without a visa and got married here to a man named Sher Ali. She also revealed the names of many Bangladeshis living in other parts of Agra zone.
Last Updated Feb 8, 2023, 8:26 AM IST
.