RSS said that Rahul Gandhi should speak more responsibly as the leader of the opposition. Although he has his own political agenda, he should talk keeping reality in mind.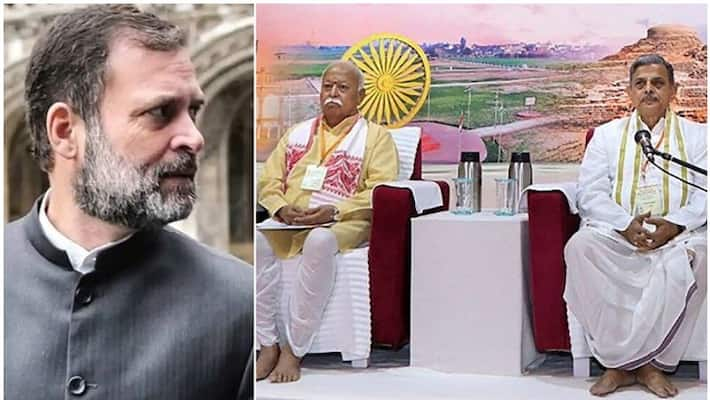 First Published Mar 15, 2023, 12:29 PM IST
The organization responded to Rahul Gandhi's comments on RSS in the UK. Before speaking anything, the leader of the opposition suggested to look at the reality. She said that he may have his own political agenda, but he should speak responsibly. General Secretary Dattatreya Hosabale spoke to the media after the three-day meeting of the RSS's apex decision-making body, the All India Representative Council, at Samalkha near Panipat.
Survey saying BJP's defeat in Karnataka?.. Fake report in the name of Kannada Prabha..
"As a leading opposition leader, he should speak more responsibly. Even if he has his own political agenda, we have to look at the reality. He said. Responding to Rahul's comments that there is a threat to democracy in India, Hosabale said that those who have turned India into a prison have no right to comment on democracy in the country. "His predecessors also took some actions against the Sangh. But people know the truth. Thousands of people were put in jails along with me during the Emergency. They (Congress) have not apologized for this yet. The country is asking them if they have a moral right to talk about democracy. How is democracy in jeopardy? Elections are going on all over the country," he said.
Five workers died of suffocation in the brick kiln
"The government has formulated the National Education Policy taking the suggestions from across the country. Policies are also framed by the National Advisory Council (headed by Sonia Gandhi during the UPA). Non-members became chairmen and could siphon crores from the treasury. Is it democracy? That's why I keep saying that we will continue to do our work. Hathi Aage Chalta Rahega."
Responding to a question about meetings of RSS leaders with prominent Muslim figures, she said that there is no involvement by RSS, but if there is an initiative from the other side, she is ready to meet. Speaking on same-sex marriage, Hosabale said that the Sangh was in line with the Centre's views, saying that marriage should only be between two people of opposite sexes.
Delhi Liquor Scam: Kavita's Supreme Court: Refusal of Stay
"Marriages can take place between two opposite sexes. Marriage is not a rite of passage in Hindu life. It is not for pleasure. Not even a contract. Living together is different. But what is called marriage has been a 'ritual' in Hindu life for thousands of years. It means two people get married and live together not only for themselves but also for family and social welfare. "Marriage is not for sexual pleasure or contract," he said.
Last Updated Mar 15, 2023, 12:29 PM IST
.