Balayya organized the pre-release event of this movie as the chief guest. Balayya said on this stage…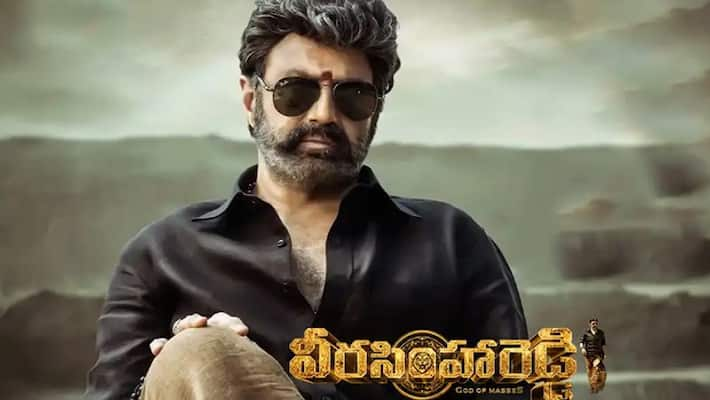 First Published Feb 8, 2023, 6:16 AM IST
Balayya is very open. It is said that he does not hide anything in his mind. The same thing happened again. It is known that Balayya Sankranti film Veerasimha Reddy was a good success. Balayya Babu's photo was leaked from the shooting location while this film was being shot. But here comes the real problem. The fans were shocked to see the leaked picture of Balakrishna. There was news that Balayya Babu's film is a remake of Kannada blockbuster 'Mufty'. On the other hand, there are reports that director Gopichand is preparing a story for Balayya based entirely on Vetapalem. But all those who saw Balayya still said that it is a remake of Muptee movie.
Mufti's movie look is also similar. In it Shivanna is sitting wearing a black dress and a person is standing behind her. There is a photo of Balayya Babu in the same style. Discussions were held whether the same story was taken completely or a line was taken from there and changed to suit Balayya's image. But it is clear that the story of Mupti has nothing to do with Veerasimha Reddy's movie. But now that topic has come up again. The reason for that is Balayya. Going into details…
Siva Rajkumar made the movie 'Veda' in Kannada. Produced under his own banner, Harsha directed the film. This movie, which was released on December 23 last year, was a huge success there. So this movie is releasing in Telugu on 9th of this month. This is the 125th film of Siva Rajkumar. Thus it has gained priority in numerical terms as well.
In this background, Balayya organized the pre-release event of this movie as the chief guest in Hyderabad. Balayya said on this stage…."Shivaraj Kumar has done a movie called 'Mufty' earlier. When it was mentioned how to have an old look in 'Veerasimha Reddy', I remembered Shivraj Kumar's look in the movie 'Mufty'. I immediately brought those photos. He said. They were shocked to hear this. It is said that no one like Balayya said that he took the look of a particular hero in a particular movie.
Last Updated Feb 8, 2023, 6:16 AM IST
.