In China, the government is quick to remove women modeling in their underwear, claiming that they are making objectionable scenes publicly available online. Many times such videos are banned. As a result, live stream fashion companies are modeling women's underwear with men instead of women.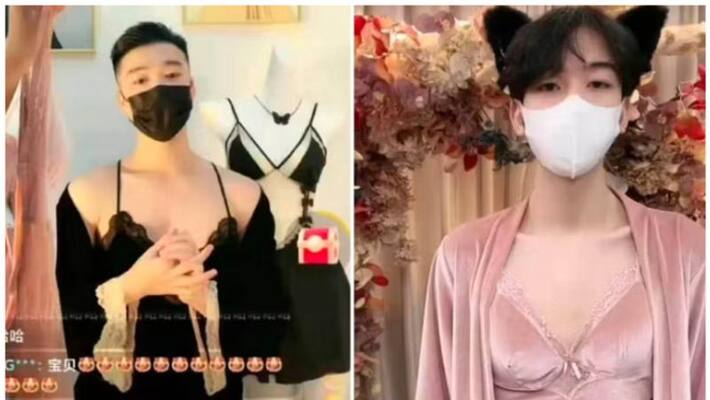 First Published Mar 3, 2023, 5:08 PM IST
New Delhi: China is cracking down on women modeling in underwear. It has banned videos of women modeling in underwear. That's why even if they appear online.. they are loading somewhere else.. they stop immediately. The Chinese government considers it inappropriate to display women's bodies in their underwear in public. That's why the Chinese government immediately shuts down videos of female models wearing underwear. Or prohibiting it altogether. But, with these measures, China's live stream fashion companies are facing difficulties. It became difficult for them to attract customers by displaying or modeling lingerie. Their types of underwear are not being promoted. So they chose a new path. Knowing about that decision will leave you speechless.
The site New York Post reported that because China has banned women from modeling in underwear, the companies are replacing women with men for modeling. Yes.. you read it right. Instead of women, they are modeling with men wearing women's underwear. Male models are being hired for this purpose. Various types of women's underwear are being displayed with them.
A video of male models posing in a variety of women's underwear has gone viral on the Chinese version of Tik Tok. A live-streamed fashion business owner, Mr. Joo, uploaded the photos on a social media website, posing in a silk robe with a male model. The photos were captioned as "for light, luxurious wives and adult women".
Also Read: Sri Lanka Postpones Elections Due To Lack Of Money To Print Ballot Papers!
Netizens reacted a lot to this clip. Added likes and comments. A user commented that by immediately removing videos of women wearing underwear and showing them to men, women's employment opportunities have been robbed. Another said that actually men wear those lingeries better than women. He commented that men were chosen instead of women in advertisements during Shakespeare's time, now men are chosen instead of women for the display of lingerie.
Meanwhile, Mr. Joo reacted to these comments. Speaking to Zoopai News, he was asked if there is anything wrong with modeling with men. It was explained that since we are not able to model them with women, we are doing it with men. Can we say that these modeling directors are mostly women, so they have robbed men of employment? He asked.
Netizens want to see how long this loop hole will continue.
Last Updated Mar 3, 2023, 5:25 PM IST
.