Telangana Chief Minister KCR OSD Despathi Srinivas has resigned from his post due to the possibility of MLA Kota as MLC candidate. Tomorrow he will file nomination as BRS candidate.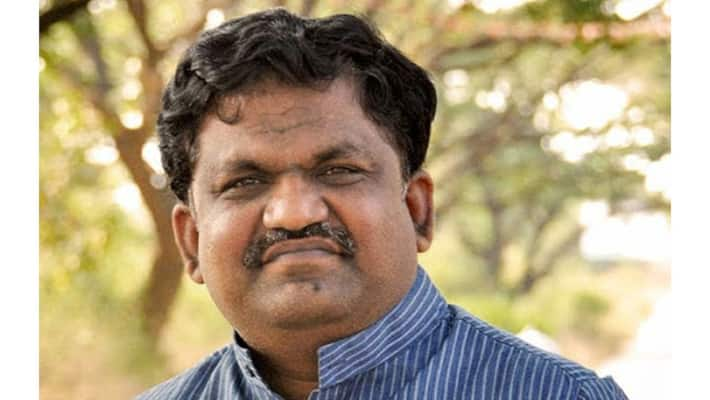 First Published Mar 8, 2023, 2:34 PM IST
Telangana Chief Minister KCR OSD Desapathi Srinivas has resigned from his post. Deshapati resigned from his post on Wednesday after KCR gave him an opportunity as MLA Kota MLC candidate. Srinivas will file nomination as BRS MLC candidate tomorrow. In the background of the huge strength of the BRS party in the assembly, their election is a formality. Meanwhile, it is known that BRS leader KCR recently announced MLA Kota MLC candidates. He announced the names of Deshapati Srinivas, Naveen Kumar and Challa Ventakrami Reddy. As per the decision of the state government, the names of the two nominated by the governor will be announced by the CM after the cabinet meeting.
ALSO READ: BJP conspiracy to block development in Telangana: Popular singer Despathi Srinivas
Despite this.. Deshapati Srinivas is one of the poets and artists who played an important role during the rapid growth of the Malidesa Telangana movement. Hailing from Munipada village near Gajwel, Deshapati Srinivas was educated in Siddipet. Studied MA in Telugu from Arts College, Hyderabad. Later he worked as a teacher from 1998 to 2016. He stood by KCR during the movement. He spread the ideology of Telangana movement with his plays, writings and speeches in thousands of meetings, meetings and rallies. Worked as CM OSD on deputation from 2014 to 2016. Deshapati Srinivas, who took voluntary retirement from the teaching profession in 2016, has been working as OSD since then.
Last Updated Mar 8, 2023, 2:36 PM IST
.