Inviting Junior NTR into politics by Nara Lokesh has become a hot topic in Andhra Pradesh. It is not known what is the intention of Jr. NTR. Chandrababu's attitude towards NTR is also not clear.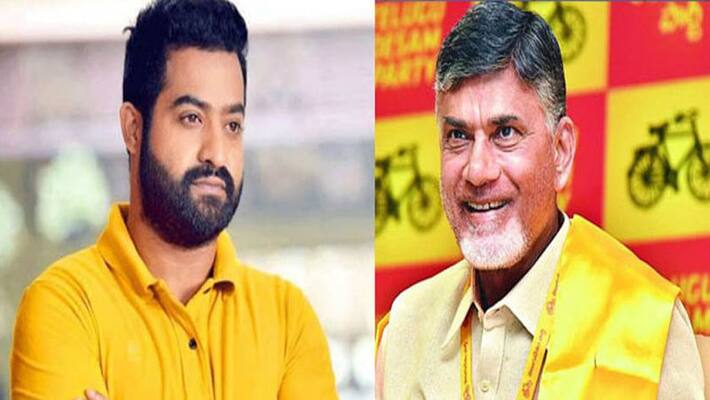 First Published Feb 27, 2023, 1:43 PM IST
Amaravati: Film actor Junior NTR has once again become a hot topic in Andhra Pradesh politics, especially in Telugu Desam Party politics. Junior NTR is being discussed with the comments made by Telugu Desam Party National President Nara Chandrababu Naidu's son and the party's National General Secretary. Nara Lokesh said that he will invite junior NTR in politics one hundred percent in an interview program organized with the youth as part of his Yuvagalam padayatra.
Kodali Nani, currently in the YSR Congress (YCP), and rebel TDP MLA Vallabhaneni Vamsi are friends of Jr. NTR. They reacted strongly to Lokesh's comments. Vallabhaneni Vamsi said what is the point of inviting Nara Lokesh Jr. NTR to TDP. He said that TDP was founded by Jr. NTR's grandfather Sr. NTR. The implication of his words is that the legacy of TDP is Jr. NTR's and not Nara Lokesh's.
Former Minister Kodali Nani went one step further. He said that Chandrababu and Lokesh are inviting Jr. NTR to TDP for their needs, and Jr. NTR knows how insults Chandrababu can do. He said that if Jr. NTR comes, TDP will at least get opposition status.
Minister Roja strongly reacted on Nara Lokesh inviting Jr. NTR to TDP. She said that TDP is NTR's party and if Jr. NTR joins TDP, there will be no survival for Naras. She said that people are not coming to the Nara Lokesh Padayatra, so they are inviting Junior NTR.
Even though all this is happening, Jr. NTR is not opening his lips. It is not that Jr. NTR is not interested in politics, but he wants to play a major role in TDP. Some leaders of the Telugu Desam Party have been asking Junior NTR to play an active role in the party. But, TDP President Nara Chandrababu is not saying anything. NTR campaigned for TDP in 2009 elections. NTR had a road accident while going to Hyderabad for the Ugadi festival, taking a break from campaigning as the elections were a few days away.
Since then he has been staying away from the party. Jr. NTR's father Nandamuri Harikrishna was seriously offended while Nara Lokesh was pushing Chandrababu forward. Differences took place between Chandrababu and Harikrishna. However, Jr. NTR has been staying away from controversy. NTR said on one occasion that he is ready to campaign for TDP if called. But there was no response from Chandrababu.
However, it is not to be expected that he will join the TDP immediately on the invitation of Nara Lokesh. He is restless in movies. Perhaps he feels that there is still time for politics. On the whole, Chandrababu's attitude towards Jr. NTR seems to be that he will not go forward and will not go back.
Last Updated Feb 27, 2023, 1:44 PM IST
.