Gannavaram court remanded 15 accused including TDP leader Pattabhi for 14 days. It is known that there was a fight between the members of MLA Vallabhaneni Vamsi and TDP workers yesterday.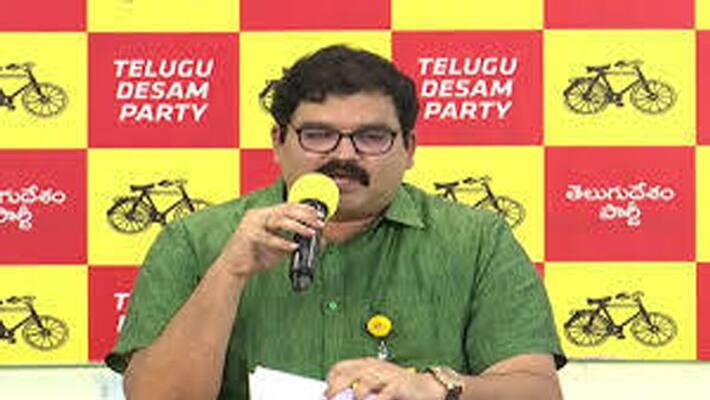 First Published Feb 21, 2023, 7:25 PM IST
The court remanded 15 accused, including TDP leader Pattabhi, to 14-day remand in connection with the tensions in Gannavaram of Krishna district. It is known that they were arrested by the police in connection with the clashes that took place in Gannavaram on Monday. They were produced in the court on Tuesday. It is known that there was a fight between MLA Vallabhaneni Vamsi's relatives and TDP workers in Gannavaram yesterday. As Pattabhi tried to enter the DGP's office, he was detained. Gannavaram police arrested another 15 TDP workers including Pattabhi. Later, the doctors were called to the police station and produced in the Gannavaram court.
Moreover, there was high tension at the house of TDP leader Pattabhi. TDP workers are worried that even his wife is not allowed to go near Pattabhi. They are protesting by climbing the building. They are warning that they will jump from the building if they do not let them go to Pattabhi. Earlier Pattabhi's wife Chandana spoke to the media and accused her husband of beating her. Chandana said that he was beaten up at Thotlavallur police station. She alleged that three masked men beat her. Her husband's life was in danger.
ALSO READ: Will Pattabhi meet… Or, TDP workers who climbed the building: High tension in Gannavaram
However, after the attack on the Gannavaram TDP office, his wife Chandana became concerned that her husband Kommareddy Pattabhiram was not seen. It is not known where the police took her husband who was arrested yesterday (Monday) evening… CM Jagan and DGP will be held responsible if any harm is done to him. Chandana was stopped by the police as she was ready to stage a dharna in front of the DGP's house to find out the whereabouts of her husband. YCP Rebel MP Raghurama Krishnamraju gave courage to Chandana, who was worried about her husband's desire. Raghurama assures Chandana that he will discuss the situation with the new Governor of AP, Nazir.
Last Updated Feb 21, 2023, 7:25 PM IST
.