Guppedantha Manasu: The serial Guppedantha Manasu which is being aired on television is very impressive to the audience. The serial continues with the love story between a lecturer and a student in a college. Let's find out what happened in today's February 27th episode.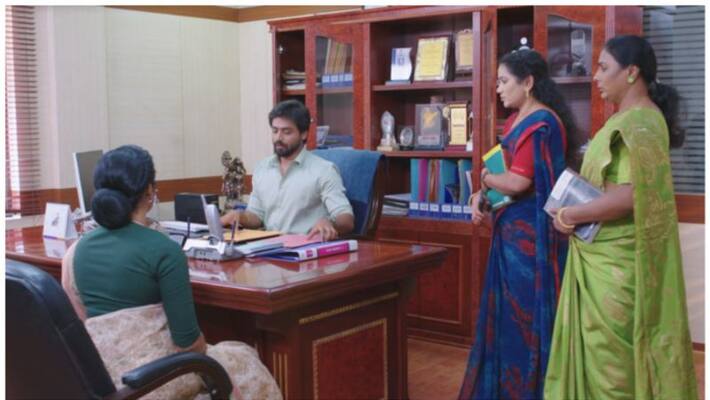 First Published Feb 27, 2023, 7:20 AM IST
In today's episode, it is said that Vasudhara Mission Education Plans and Developments will be held a press meet and told to tell everyone. I said that I will hold the press meet after the press meet because you are not feeling well, then Rishi says that the minister will be upset if I cancel the press meet because of what has to do with my health and the press meet. Rishi says sir, arrange a press meet without me. He says that we should never entangle our personal matters with professional matters. Vasudhara says I can't take care of only one thing as you said to take care of one thing sir, everyone should discuss together.
Then Jagati says yes Rishi it is better if you two talk about the press meet, meanwhile Devayani comes there and asks do you understand what you are doing. Devayani says that Rishi is not good at heart, you all are sitting and talking about press meet. Devyani overreacts saying why all this now why don't you let him be calm. Vadina says that there is a press meet in the college, Mahendra asks if there is a press meet, will Rishi be given a real rest? If Rishi does everything, what will you do, that is, then Rishi Peddamma asked to arrange a press meet, then the minister says that now it will not be good if we cancel it.
Then Jagati says we left here, Pada Mahendra, they will discuss about mission education, if I don't want you will say the same thing again, Jagati, Devayani says. Peddamma says please and Jagati leaves from there. Then Devyani also leaves without saying anything. After that Vasudhara and Rishi were talking about what to say in the mission education project press meet while Vasudhara was taking notes. Then Vasudhara also says very well to Rishi's words and writes those points saying sir.
Then Rishi looks at the tali on Vasudhara's neck and Vasudhara says that it is good that some things are not Gopika, sir I came to know about that very late. She says that if there are bonds in this relationship, you should remove them yourself, sir. She says sir you should inform the world about what happened. Ok sir, I will come back, you take tablets from time to time and eat, she says and leaves from there. On the other hand, Vasudhara is happy remembering the moments she spent with Rishi in college. Then Vasudhara gets angry seeing Rishi's car in the college. Sir, when you get fever, you should take rest at home, why did you come to college, get up first and go home.
Then when Rishi tries to speak, Vasudhara angrily says I will make sure that Rishi does not speak, sir, why did you come. Hello, what are you doing? Sir, I will do it. Rishi says it doesn't matter whether you go or send the car driver. He says ok sir will you go after the press meet i.e ok let's see. Vasudhara says ok sir I have works and will come again. After that, Vasudhara tells the attendant to bring tablets related to Rishi. Then Rishi comes there while talking on a phone call regarding the students.
After that while the tablets were being given, the college faculty came there and looked at Vasudhara and did not really understand their relationship. Sir, they think that she puts tablets in her mouth and drinks water. Then Rishi says I have work and leaves from there. On the other hand, have you seen the college faculty, Rishi keeps talking about them wrongly saying that Vasudhara, who turned in front of us saying madam madam, is now trying to put Rishi sir in the basket. Then Rishi comes there while they are talking about Rishi. Both of them are getting tensed as you say come to my cabin and meet. On the other hand, Jagati Mahendra is talking happily.
Meanwhile the attendant comes there and says Rishi sir is calling you and Jagati says ok. After that, while Jagati is leaving there, Vasudhara confronts her and thanks her, Vasudhara is happy saying that she has seen peace in Rishi's face after many days. I didn't ask you to come because I wanted to come too, didn't I ask you to come? On the other hand, while the college faculty is afraid of what Rishi will say, Jagati comes there. Jagati will be shocked as they will give two files and say that these are the mistakes they have made in college so far. I didn't understand what they were saying, I heard them myself, that is, Jagati was looking at the faculty of the college and they were tensed.
They discussed about unnecessary things and went into personal matters which means that the world looks at them seriously. Jagati looks angry as she says that she likes me along with Vasudhara. Rishi angrily says that I am not wronging myself by saying that, when you have your methods, there are some college methods. Rishi says it's not sir Vasudhara means see madam I told you Sardi when you spoke wrongly about Vasudhara twice but you are repeating the same mistake again and again. I have waited patiently for so many days for you to change and I understand that you will not change. Both of them will be shocked by saying that I am dismissing both of you. I have dismissed both of them, madam immediately put this circular on all notice boards and leave.
Last Updated Feb 27, 2023, 7:20 AM IST
.