Former minister Kanna Lakshminarayana condoled the death of actor Nandamuri Tarakaratna. He expressed that it is painful to lose an actor who has a good future.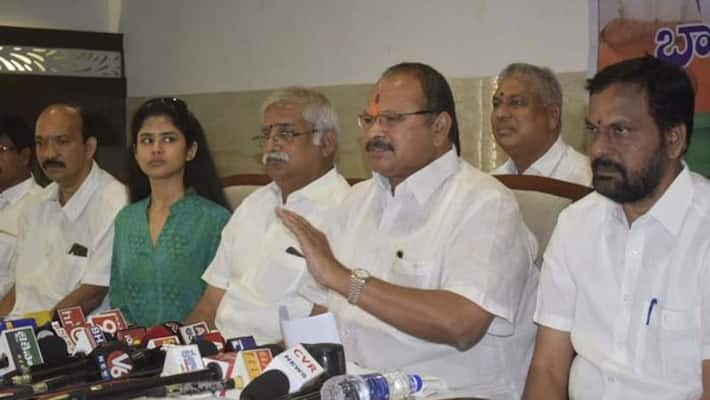 First Published Feb 19, 2023, 3:36 PM IST
Former minister Kanna Lakshminarayana condoled the death of actor Nandamuri Tarakaratna. After resigning from the BJP, Kanna held a special meeting with his well-wishers in Guntur on Sunday. Speaking on this occasion, he said that the death of Tarakaratna has caused pain. Lakshminarayana expressed his deepest condolences to the family members of the actor who had a great future.
ALSO READ: Did Tarakaratna ever die.. Chandrababu spent many years in the hospital for his son: Lakshmi Parvati comments
If not… Kanna Lakshminarayana will join TDP on 23rd of this month. It is known that he resigned from BJP on Thursday. Kanna Lakshminarayana officially announced his decision after consulting his key followers and well-wishers. He sent his resignation letter to BJP National President JP Nadda. However, he said that he has not yet decided on his future career. He said that he will announce the decision after full consultation with his followers.
Resignation after not liking the performance of the state party.
Kanna Lakshminarayana made important comments while resigning from BJP. He said that he has respect for Prime Minister Narendra Modi.. and it will remain so forever. He said that he has worked for the development of the party since joining the BJP. He said that as the state president of the party, he brought everyone together. He criticized that the situation has changed after Somuveerraju became the state president of the party. He said BJP is not moving forward under the leadership of Somuveerraju. He said that Somuveerraju was taking decisions personally. He criticized the party for not discussing and taking opinions. He said that he was leaving the party because he did not like his attitude and behavior. He thanked his followers who resigned with him.
Also Read: Kanna Lakshminarayana joins TDP: Joining Babu on 23rd of this month
Meanwhile, Tarakaratna, who was battling illness for the last 22 days, breathed her last on Saturday evening while undergoing treatment. Nandamuri family was deeply saddened by this. Tollywood was shocked. Everyone thought that he was recovering from illness. But an unexpected development took place. On Saturday, his health deteriorated again. No matter what the doctors try, it is of no avail. Tarakaratna has gone to the worlds of no return.
Recently, he fell ill during the 'Yuvagalam' padayatra organized by Nara Lokesh. Tarakaratna was immediately shifted to Kuppam Hospital and treated. From there he was shifted to Bangalore's Narayana Hrudayalaya for better treatment. Doctors tried their best to save Tarakaratna. A special medical team also came from abroad. But there was no result
Last Updated Feb 19, 2023, 3:36 PM IST
.