BJP MLA Etala Rajender said that the accused who committed the suicide attempt of Warangal KMC medico Preeti should be severely punished.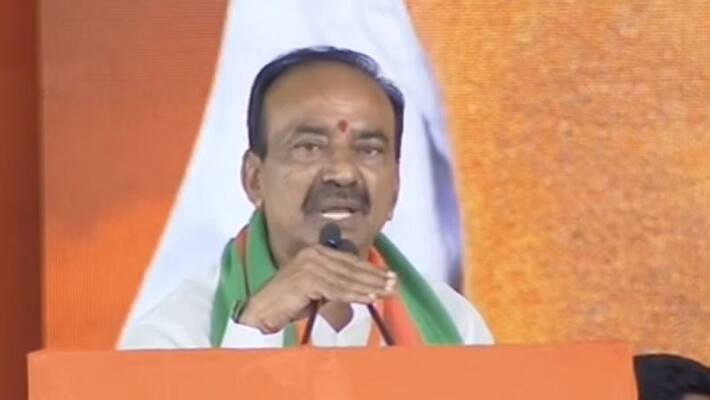 First Published Feb 26, 2023, 5:34 PM IST
Hyderabad: BJP MLA Etala Rajender has alleged that ragging is still going on secretly in the medical colleges of the state. Former Minister Etala Rajender Medico visited Preethi's family members in Nims, Hyderabad on Sunday. He inquired about the treatment Preeti was receiving. Later he spoke to the media. He demanded a thorough inquiry into the Medico Preeti incident. He said that even though Preeti complained to the police about the harassment going on against her, there was no result. He alleged that there was some failure of the police in Preeti's incident. Etala Rajender asked Preeti to get better treatment.
Rajender opined that the entire burden falls on PG students in medical colleges and government hospitals. He said that the teaching staff has not increased as much as the medical colleges have increased.
Medico Preeti attempted suicide on 22nd of this month. Preeti works as a medic in Warangal KMC. The family members are alleging that she committed suicide due to harassment by senior Saif. Two days ago Saif was arrested by the police and sent to remand. Police announced that Medico Preeti attempted suicide due to Saif's harassment.
Medico Preeti's parents complained to the principal about Saif's harassment. Based on this complaint, the principal called Saif and Medico Preeti and spoke. Medico spoke to mother about Saif's harassment. This audio conversation came to light.
A group of professors submitted a report to the government on the suicide attempt of Medico Preeti. Saif has already been suspended. It is said that if the allegations against Saif are proved, there is a possibility that the weapon of deportation will be used against him.
Also read: Health bulletin on the health of Medico Preeti in a short time: Security increased at NIMS
Warangal CP Ranganath announced two days ago that Saif had been deliberately targeting Medico Preeti for the past four months and he said that WhatsApp chats were evidence in this matter. He explained that in their investigation they found WhatsApp chats.
Last Updated Feb 26, 2023, 5:34 PM IST
.