A conductor committed suicide by hanging himself in an RTC bus. The incident took place in Thorrur, Mahabubabad district.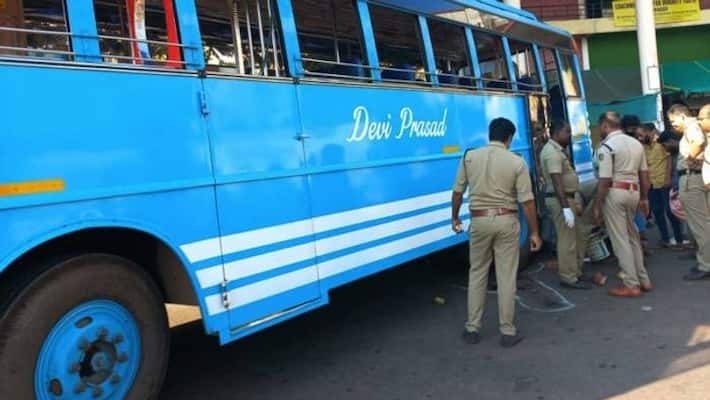 First Published Mar 13, 2023, 7:57 AM IST
Thorrur: A tragic incident took place in Thorrur, Mahbubabad district of Telangana. A conductor committed suicide by hanging himself in an RTC bus. A person named Garlapati Mahender Reddy (54) works as a conductor in RTC. Kanthayapalem village of Thorruru mandal is his native place. He settled in teachers colony in Thorrur. Mahender Reddy has wife Aruna and two sons. Mahender Reddy is on leave for three days. He reached the depot after 12 noon on Sunday.
He also wrote his name in the register saying that he will do duty. After that he was never seen again. Even though the staff called him after duty, there was no response. In this order, Mahender Reddy was found dead hanging with a towel in a bus parked at the end of the bus depot premises. The workers noticed this and immediately informed the authorities. But Mahender Reddy's wife Aruna complained that he committed suicide due to financial difficulties. Police have registered a case to this extent.
Conductor who did not give rupees in the bus.. The passenger who went to court.. What was the verdict..
Meanwhile, a man from Uttar Pradesh committed suicide at the Patanjali Wellness Center in Haridwar early on Friday. Rajeev Kumar from Mainpuri, UP has been staying at this center for some time due to depression. Earlier on Thursday also he attempted suicide. However, in time his wife saw him and dissuaded him from the attempt.
On Friday morning, he committed suicide by jumping from the third floor of the building. After receiving the information, the police reached the spot and registered a case. The investigation is ongoing. Bhadrapad SHO Nitesh Sharma said that no suicide note related to his death has been found so far. Postmortem of Rajeev Kumar's body is being conducted. Further investigation is going on, he said.
Last Updated Mar 13, 2023, 7:57 AM IST
.