Ranchi: Congress National President Mallikarjuna Kharge has once again criticized the Central Government and Prime Minister Narendra Modi. Prime Minister Modi has been accused of extreme arrogance. Also, it is stated that the freedom of expression in the country is lacking. He alleged that if they criticize the government, they are put in jails.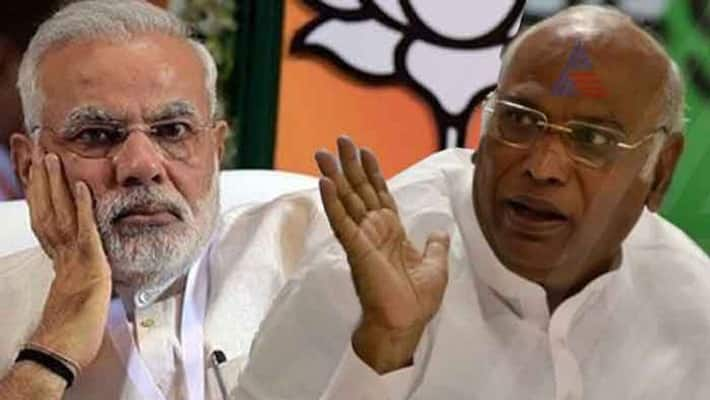 First Published Feb 11, 2023, 4:23 PM IST
Congress chief Mallikarjun Kharge: Congress president Mallikarjuna Kharge launched the Hath Se Hath Jodo Yatra campaign in Jharkhand on Saturday. On this occasion, he once again criticized the central government and Prime Minister Narendra Modi while giving a speech. Prime Minister Modi has been accused of extreme arrogance. Also, the central government was severely criticized over the Adani affair. "Let's raise the issue of Adani in Parliament. His assets, which had an income of only one lakh crore in 2019, have increased to Rs. 13 lakh crore in two and a half years. Will the wealth of a person earning Rs. 2 lakh increase so much?…" asked Kharge. Mallikarjuna Kharge said, "What magic has been done? Prime Minister Narendra Modi's government at the center is distributing government money to Adani. LIC money.. Modi has made Adani a 13 lakh crore man. Modi always tells lies. Rahul Gandhi's Parliament speech was removed undemocratically."
Prime Minister Modi is very proud..
He said that Prime Minister Modi has a lot of pride, but nobody has this pride. "Inflation is increasing in the country. Modi used to say that when our government came to power in 2014, we will reduce inflation. I am asking Prime Minister Modi, where are you now? What happened to your promises?" Congress president Mallikarjuna Kharge praised the Jharkhand government for its good performance. He also stated that his fight for the farmers will continue.
Questions to the government on Adani's case..
Earlier targeting the Centre, Kharge said that the country wants answers on the Adani case. "Shouldn't there be an inquiry into the Adani scam? Shouldn't the fall in prices of LIC money invested in Adani companies be questioned? Shouldn't questions be asked about the Rs.82,000 crore loan given to Adani by SBI and other banks? What is the reason why Modi and the entire government did not allow even the word Adani to be uttered in Parliament?…" said Mallikarjuna. Kharge asked.
Freedom of expression is lacking in the country.
Congress President Mallikarjuna Kharge lashed out at the BJP government at the Center and expressed his displeasure that some parts of his speech in the Parliament were removed during a rally held in Jharkhand's Sahebganj district. He said that there is no freedom of expression either inside or outside the Parliament. It is alleged that those who speak boldly are put in jails. He said that the BJP came to power in 2014 with the promise of curbing inflation, but since coming to power, prices of essential commodities and poverty have been increasing. Kharge said that it was the Congress party that developed the country's infrastructure and fought for India's independence. The Congress President was speaking at the Gumani Maidan in Pakur after launching the party's 60-day 'Haath Se Haath Jodo' program in the state.
Last Updated Feb 11, 2023, 4:23 PM IST
.