Union Minister and BJP leader Prahlad Joshi alleged that electricity was not provided during the Congress regime and the population increased due to this. Currently, his comments have become a topic of discussion in political circles.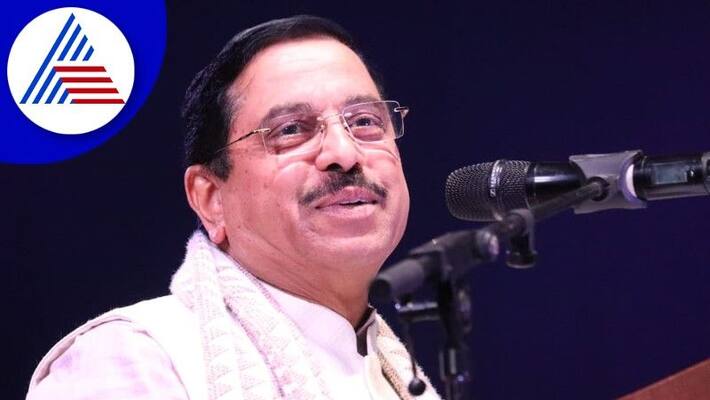 First Published Mar 10, 2023, 2:59 AM IST
The term of the Karnataka Assembly will end in the month of May. In such circumstances, there is a possibility that the election dates will be announced soon. In this background, political parties started campaigning vigorously. In view of the elections, Union Minister Prahlad Joshi participated in a massive roadshow in Javagal of Hassan district under "Vijaya Sankalp Yatra". He slipped his mouth while addressing the people there.
Union Parliamentary Affairs Minister Prahlad Joshi lashed out at the Congress over its election promise of providing free electricity if it comes to power in Karnataka. Prahlad Joshi made sensational comments that electricity was not provided during the Congress regime and as a result the population increased. Now before the election Congress is saying that they will give free electricity, do you believe that they will give free electricity? Electricity was not given in their time.
There was never electricity in the villages. "After Prime Minister Modi came to power, we (BJP) are able to provide 24-hour electricity," said Prahlad Joshi. He made interesting comments that our population has increased because they (Congress) used to give less electricity. Karnataka Congress has promised to provide 200 units of free electricity every month if it wins the next election. But there is no response from the Congress on this statement yet.
From BJP to Congress
Karnataka Congress state president DK Shivakumar said that surveys show that his party will get more than 140 seats out of the total 224 seats in the next assembly elections. He spoke to reporters after inducting two former MLAs and former mayors of Mysore into the party. Former Kollegal MLA GN Nanjundaswamy, former Bijapur MLA Manohar Ainapur and former Mysore Mayor Purushottam are among the three leaders who left the BJP and joined the Congress. Shivakumar claimed that the BJP had considered holding elections in Karnataka soon after the results of the 2022 Gujarat elections, but backed out of the move.
BJP MLA stuck in corruption
Lokayukta's anti-corruption department recently arrested MLA Madal Virupaksappa's son Prashanth Madal for accepting a bribe of Rs.40 lakhs. After that, Virupaksappa was on the run for five days. Prashanth Mandal was caught red-handed by Lokayukta officials while taking bribe in his office. 1.7 crore from BJP MLA's office and Rs. Eight crores were seized. After the Lokayukta move, Madal Virupaksappa resigned as the president of Karnataka Soap and Detergent Ltd.
Last Updated Mar 10, 2023, 2:59 AM IST
.