Aditya Thackeray accused the Election Commission of being 'completely compromised'. He said the rebel MLAs led by Shinde had done a futile job of toppling the government.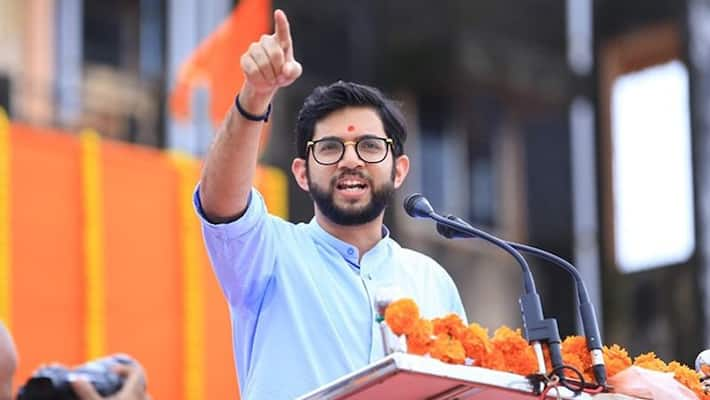 First Published Mar 13, 2023, 3:17 AM IST
Shiv Sena (UBT) leader Aditya Thackeray on Sunday alleged that the Election Commission has been completely compromised. Maharashtra Chief Minister Eknath Shinde's recognition of Shiv Sena as a group and assigning the symbol of bow and arrow to it is dangerous for democracy, he said. Presently in Maharashtra, "CM" (Chief Minister) has become "corrupt man" (corrupt man). He said that the illegal and unconstitutional Chief Minister must go.
Addressing a meeting of party workers in North Mumbai, Aditya Thackeray said that only the torch symbol assigned to Shiv Sena (UBT) will dispel the darkness caused by betrayal and backbiting. He said that the rebel MLAs led by Shinde had worked to topple the government if the government was engaged in dealing with the Covid-19 pandemic and in addressing the plight of farmers who suffered due to cyclone and untimely rains.
The former minister said that the Maha Vikas Aghadi government is taking Maharashtra to a golden age. During the two-and-a-half-year tenure of MVA, investments of Rs.6.5 lakh crore were received, and 93 percent of the investment proposals were implemented. Thackeray said that it is wrong to topple the government..BJP has done it. The most important duty of the MVA government is to waive off the loans of the farmers. The Worli MLA said that Maharashtra does not want to be betrayed and that is why the local body elections are being postponed.
He expressed confidence that the Shiv Sena (Uddhav Balasaheb Thackeray) would win whenever the Mumbai civic polls were held. Aditya Thackeray said none of the 40 MLAs who joined the Shinde camp had made it clear that they had not taken money. He asked who are the 40 MLAs who betrayed Uddhav Thackeray. He questioned how they would be honest to the people and the state.
Last Updated Mar 13, 2023, 3:17 AM IST
.