Lucknow: A leopard attacked a girl who was going to a temple with her mother. The girl lost her life in this incident. During the attack, the leopard ran away as the bystanders shouted. In another incident earlier, two were seriously injured.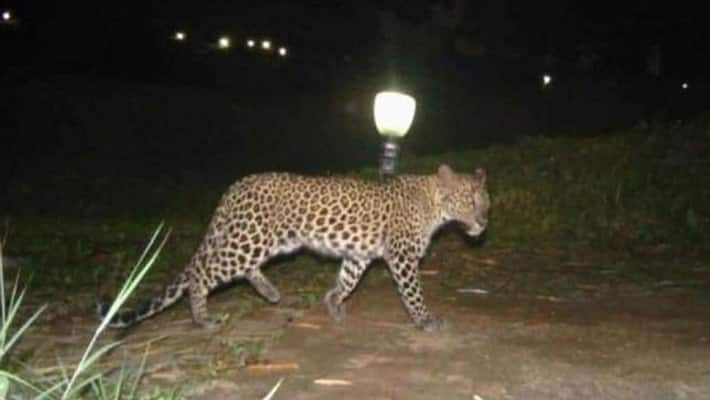 First Published Feb 18, 2023, 3:20 PM IST
Girl killed in leopard attack in UP: A 14-year-old girl lost her life in a leopard attack in Bijnor, Uttar Pradesh. The incident took place while she was going to the temple with her mother. Circle Officer Sangram Singh said Aditi, a resident of Chota Kiratpur village under Nagina police station, was on her way to the temple with her mother on Friday evening when the leopard attacked her.
When the villagers heard the screams, the leopard ran away from the place. The girl, who was injured in the leopard attack, was immediately rushed to the Community Health Center. The doctors said that she died while undergoing treatment as the injuries became severe in this sequence.
Fight with leopard..
Earlier also there was an incident of leopard attack in these same areas. A woman working in a farm in Bijnor, Uttar Pradesh had to fight a leopard on Monday morning. While working in the field, the leopard attacked. In this sequence, a woman fights a leopard to save her son. Not only did she bravely fight the leopard and save her ten-year-old daughter, she managed to chase it away from the village even after being injured. However, the woman and her child were seriously injured in the attack. The child was taken to Meerut as her condition was critical.
A cheetah attacked near the sugarcane field around 5 am. The wife of Om Prakash of Jitpur village under Nagina police station in Bijnor district works in a sugarcane plantation with her son Tikendra. At this time, the leopard that came there suddenly attacked the son Tikendra and pressed his throat in its mouth. Seeing this, his mother panicked and counter-attacked the leopard with a cane-cutting machete. She saved her son from a leopard.
Two seriously injured in leopard attack
The mother fought bravely to save her son from the leopard while others working in the field ran away. During this time the cheetah kicked the mother several times and seriously injured her. After a long fight, the cheetah left her son and ran away.
By holding the son's neck..
The mother said the leopard grabbed her son's neck. It is said that he got a deep wound on his neck. She said that a lot of blood came out from there and the son fell unconscious. His stomach, arms and legs were also injured. Somehow she came out of the farm with her son in her arms. From there she was taken to the hospital on foot. Currently, his condition is said to be critical.
Last Updated Feb 18, 2023, 3:20 PM IST
.