The competition in Lok Sabha elections is going on fiercely in UP. From Samajwadi Party, BSP to Congress, everyone's voice is different from that of BJP. Samajwadi Party president Akhilesh Yadav suggested that his candidate should be fielded in Amethi as well.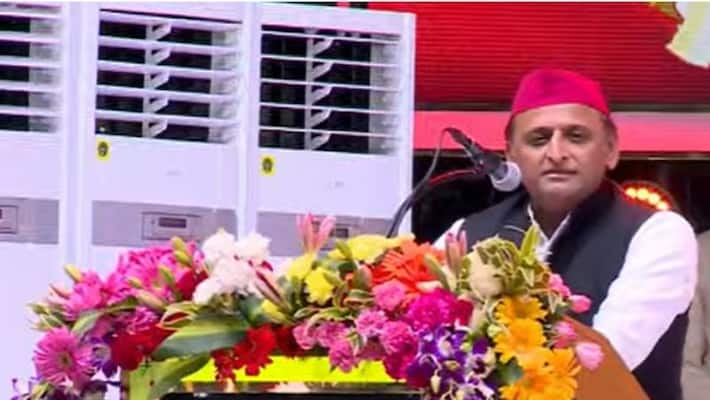 First Published Mar 7, 2023, 12:36 AM IST
Samajwadi Party (SP) President and former Uttar Pradesh Chief Minister Akhilesh Yadav is expected to field a party candidate in the upcoming Lok Sabha elections from Amethi, the stronghold of the Nehru-Gandhi family. Since then, the distance between Samajwadi and Congress seems to be increasing before 2024. The SP has so far refrained from fielding its candidate from the Amethi Lok Sabha seat.
Akhilesh, who visited Amethi on Sunday, said in a tweet on Monday, 'It is very sad to see the plight of poor women in Amethi. Here the 'VIPs' have won and lost, but the situation here is the same. So what about the rest of the state? Once again Amethi does not elect great people, but people with big hearts. SP pledges to eradicate poverty in Amethi.
Along with this tweet, Akhilesh also shared some pictures from his trip to Amethi. Amethi Lok Sabha constituency has long been considered a stronghold of the Nehru-Gandhi family. From here, SP is trying hard not to field its candidate. BJP leader and Union Minister Smriti Irani won the 2019 Lok Sabha elections against former Congress President Rahul Gandhi. Congress Uttar Pradesh unit leader Ajay Roy recently said that Rahul Gandhi will again contest the 2024 Lok Sabha elections from Amethi, where the Nehru-Gandhi family has old ties.
Ajay Roy said this during his visit to the political citadel earlier this year to rally support for Rahul Gandhi's 'Bharat Jodo Yatra'. Rai said that the Gandhi-Nehru family has old ties with Amethi and no one can weaken it. He said that Rahul Gandhi will contest from Amethi in 2024. The old party Congress is gradually shrinking in this politically crucial state with 80 Lok Sabha members. Congress managed to win only Rae Bareli seat held by Sonia Gandhi in the last general elections. Congress failed to win in Rae Bareli or Amethi Lok Sabha seats in last year's UP assembly elections. SP won in Amethi assembly seat. In 2022, SP's Maharaj Prajapati won the Amethi Assembly seat against BJP's Sanjay Singh. Ashish Shukla of Congress came third. Meanwhile, Congress did not open its account in five assembly seats in Rae Bareli last time.
Akhilesh Yadav fires on Smriti Irani
At the same time, Akhilesh Yadav also targeted the BJP. The Union Minister appealed to the people of the region to defeat Irani in the 2024 Lok Sabha elections without naming her. Citing unemployment and inflation.. In the past BJP people used to carry the cylinder head on inflation and sugar was Rs. Yadav said that they used to talk about giving 13, but today inflation has reached its peak, so they have no answer.
Without mentioning the name of BJP MP and Union Minister Smriti Irani from Amethi, Yadav said that the cylinder seller is from here and should defeat her in 2024 elections. SP chief Yadav, who came to Amethi on Sunday to attend the wedding of former minister Gayatri Prasad Prajapati's daughter, accused the government of implicating SP workers and leaders in false cases. Referring to the former minister Prajapati who was jailed in various criminal cases, Gayatri Prasad said that injustice was done to Prajapati and he is confident that this family will get justice from the court.
Last Updated Mar 7, 2023, 12:36 AM IST
.