The Assam government has launched a campaign against child marriage. In this order, strict measures will be taken in the name of child marriages. A large number of arrests are being made. Guwahati High Court made sensational comments in this order. It has made it clear that there is no need for custodial trial of the accused in such cases which are creating havoc in the personal life of the people.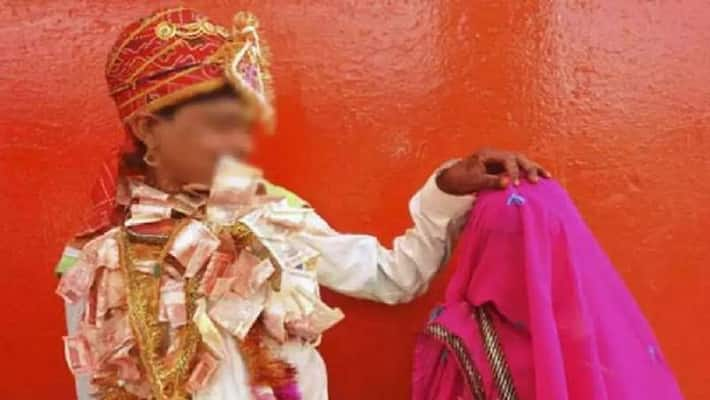 First Published Feb 16, 2023, 6:10 AM IST
In Assam, the government has taken strict action against child marriage. A large number of people have been arrested in the name of large-scale crackdown. The Guwahati High Court reacted strongly to this move. So far, more than 3000 people have been detained across Assam on the charges of child marriage. They were kept in temporary jails.
But the women protested against the arrest of the sole breadwinner of their family. A lot of questions are being raised about the police action. As the cases are several years old, there are doubts about the action of the police. Experts have also raised doubts about the validity of the implementation of the Protection of Children from Sexual Offenses (POCSO) Act in cases of child marriage.
The Guwahati High Court has granted anticipatory bail to nine people arrested under the POCSO Act. The Guwahati High Court strongly condemned the arrests being made in the name of strict action against child marriages. This action is creating havoc in people's personal life, it said. The court held that there is no need for custodial trial of the accused in such cases. The High Court on Tuesday heard the anticipatory and interim bail petitions filed by several accused and granted bail to all. It ordered the concerned authorities to release it immediately.
Justice Suman Shyam said on this government's action, the allegations are strange. He blamed the BJP government in Assam for registering cases on allegations of sexual assault. 'POCSO you (state government) can add anything. What is the charge here? Just because POCSO is included, does it mean judges won't see it? We are not deporting anyone here. No one is stopping you from checking it out. Are there allegations of rape here?' The allegations made during the investigation were described as strange.
Arrest them all?
In another related case.. "This court opined that there is no need to conduct a custodial trial. If you find someone guilty.. file a charge sheet. If he/she is found guilty in a court trial.. they will surely be punished. Such arrests are wreaking havoc on people's personal lives. . There are children, family members, elderly people. Obviously, child marriage is a bad idea. We will express our views, but the current issue is whether they should all be arrested and put in jail," she said.
Over 4000 cases
Assam Chief Minister Himanta Biswa Sharma has launched a campaign against child marriage as a way to address poor health standards in the state. After this.. on February 3, the police started action by registering 4,000 cases against child marriages. On February 10, they sought the support of the people of Assam in their government's fight against this social crime.
Last Updated Feb 16, 2023, 6:10 AM IST
.