Rare heart surgeries are being performed on children at Nimes Hospital. A special medical team from Britain reached Nimes on the call of Minister Harish Rao. Nims and Nilofar have formed a team with mutual cooperation and are doing rare operations.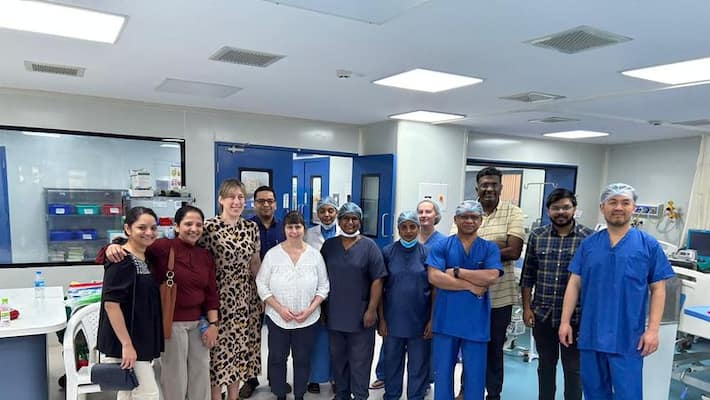 First Published Mar 2, 2023, 7:51 PM IST
HYDERABAD: Rare heart operations are being performed at NIMS Hospital in the capital city of Hyderabad. For the last four days, a team of doctors from Britain, Nims and Nilofar doctors are performing these heart surgeries in collaboration. So far 8 surgeries have been completed successfully. A team of six doctors headed by Dr. Venkata Ramana Dannapuneni from Britain came to NIMS on the special invitation of the State Health Minister Harish Rao.
Performing heart surgeries on young children is not only complicated but also very expensive. Such surgeries are almost never done in government hospitals. However, with the decision of Minister Harish Rao, for the first time in the state, these surgeries are being done in the government hospital. If these surgeries are done in private hospitals, it will cost around Rs. It will cost up to 5 lakhs. The Telangana government has decided to provide these services free of cost to those poor children.
Also Read: The nurse who raped the doctor.. nude photos online
Recently, this team successfully performed surgery on a one-month-old baby. Fatima from Mahbubnagar Middle came to Nims Hospital with her child suffering from heart problem. Then the weight of the baby was only 2.5 kg. The baby suffered from arterial anatomy, multiple ventricular septal defects. Arterial switch repair and multiple VSD closure surgeries were successfully performed on this baby on 28th of last month. Currently, the child is recovering gradually in the ICU.
Congratulations to Health Minister Harish Rao
Minister Harish Rao congratulated NIMS doctors for performing a rare surgery and saving the baby's life. He said that it was a great thing that a special team of doctors came from Britain and participated in the surgeries and cooperated. The baby is expected to make a full recovery and join the mother's arms soon.
Last Updated Mar 2, 2023, 7:51 PM IST
.