The huge earthquake that occurred in Ecuador in South America has left a lot of damage. 14 people died due to the earthquake. Houses, hospitals, schools and many other buildings were destroyed.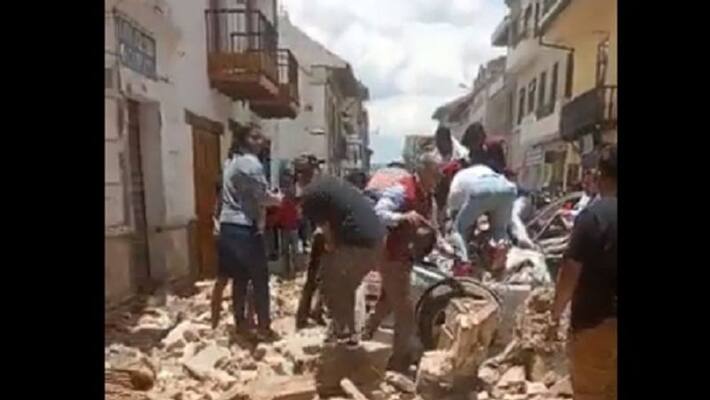 First Published Mar 19, 2023, 8:35 AM IST
A huge earthquake hit the coast of Ecuador and northern Peru on Saturday afternoon. About 14 people died due to this earthquake. Several houses, schools and medical buildings were damaged, Reuters said. Ecuador's president, Guillermo Lasso, said in a statement that all ministries have been alerted and sufficient financial resources have been made available to immediately repair the earthquake damage. He said that the magnitude of the earthquake was 6.5 on the Richter scale.
Fatal accident in Madhya Pradesh.. Training plane crashes, two pilots killed..
The US Geological Survey (USGS) said the quake struck at a depth of 66.4 kilometers (41.3 miles) 10 kilometers from the city of Balao in Guayas province. The Presidential Communication Service stated that 12 people died in El Oro province and two people died in Ajuy province in this earthquake. About 120 people were injured.
Officials said there is no possibility of a tsunami due to the earthquake. Local media said that seven houses were destroyed and another 50 houses were damaged due to the earthquake. 20 educational centers and more than 30 health centers were damaged due to landslides caused by the earthquake. Santa Rosa Airport sustained minor damage but operations continued.
According to the announcement of the Directorate of Risk Management of Ecuador.. A wall collapsed and fell on a vehicle in the province of Ajuay. State-owned oil company Petrocudar has evacuated its staff as a precautionary measure. Stopped operations. According to the Ecuadorian Geophysics Institute, two lesser aftershocks occurred within an hour of the original earthquake. According to Peruvian officials, there were no reports of loss of life or property despite the earthquake in the northern part of the country.
Last Updated Mar 19, 2023, 8:35 AM IST
.