ICC Womens T20 World Cup 2023: It is known that the Indian team lost to the Aussies in the semis of the ICC Womens T20 World Cup. Harmanpreet – Jemima fought but India was disappointed.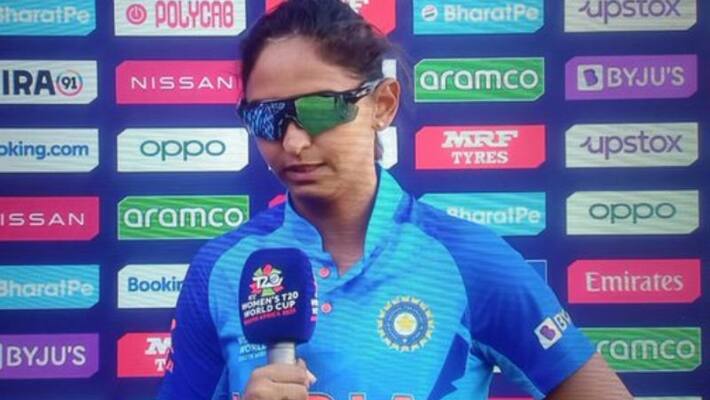 First Published Feb 24, 2023, 10:47 AM IST
The Indian team once again lost to the Aussies in the ICC Women's T20 World Cup, leaving the Indian fans deeply disappointed. In the semifinals, India lost to Aussies by five runs. Although the Indian bowlers failed, Harmanpreet and Jemima Rodrigues, who fought in the batting, shone, and at one stage, it seemed that India would be able to score an easy victory in this match. But with Harman's run out, Team India's hopes turned upside down.
A video of Harman's words at the end of the match has gone viral. Harman, who was deeply disappointed after losing in the semis, stopped her tears and spoke. After the match she wore glasses to hide the pain.
Harman said on this occasion.. 'I don't want my country to see the scenes of me crying. That's why I wear glasses. But I put on my glasses and hide my tears. We will learn a lesson from this defeat. We will bounce back…' she said with emotion.
Harman also spoke with the same emotion in the press conference held after the match. Jemima, who fought alongside him, praised the fight. Jemima played very well in this match. He knows what the team wants. That's how she batted. Such shows are very important…' she said.
And Harman said that the fielding mistakes in this match hurt them badly. They expressed concern that they did not play up to their level in the fielding.. They left important catches. They said that they should not have played like this in the semis.. but they have learned from these mistakes.. they will make sure not to repeat them.
The kangaroos who batted first in the semi-final against the Aussies scored 172 runs for the loss of 4 wickets in the allotted 20 overs. After that, the Indian team stopped at 167 runs for the loss of 8 wickets in 20 overs. In the crucial match, openers Shafali Verma (9), Smriti Mandhana (2) and Yastika Bhatia (4) disappointed. Jemima (43) and Herman (52) excelled. But the situation turned upside down with Harman's run out. Richa Ghosh and Deepti Sharma tried for victory but India remained five runs away from victory.
Last Updated Feb 24, 2023, 10:47 AM IST
.