Witness the film Geeta Sakshi, an intense emotional drama that questions the injustices done to women. The trailer of this movie was released today and it is impressing the audience.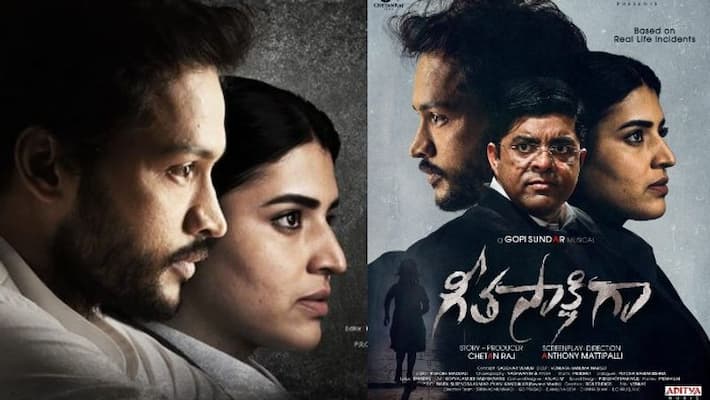 First Published Mar 14, 2023, 11:30 PM IST
Adarsh ​​and Chitra Shukla are the heroines of the film Geetha Sakshiga. When someone kills a girl in a ladies hostel, the crime falls on another person. The police use torture to convince the young man who did not confess to the murder. Lawyers will not even take the case to argue on his behalf. At that time a lady lawyer takes up the case and stands on his behalf.
The movie Geetha Sakshiga opens with an interesting thriller story about a murder taking place in a real ladies' hostel, a young man being arrested and the police torturing him. Directed by Anthony Mattipalli, produced by Chetan Raj and produced by Geeta Sakshi. Anthony Mattipalli wrote the screenplay and staged it well. Chetan Raj not only produced this movie under the banner of Chetan Raj Films, but also wrote the story. Pushpak, JBHRNKL acted as presenters.
Geeta Sakshi is an intense emotional drama based on true events. The movie is releasing on March 22 in Telugu and Tamil languages. Promotions are in full swing. A good buzz has been created on the movie with the posters, first look, teaser and song released already. On Tuesday, the makers released the trailer raising these expectations.
If you look at the trailer, you will question the injustices being done to women. In it, the hero is caught in a murder case, the women's groups fight to punish him, and there are scenes where the hero, Adarsh, who is unjustly caught in the case for a mistake he did not commit, is turned away. Hero Adarsh ​​looks and style are superb. There is no doubt that he will impress with his performance in this film which is releasing on March 22. Charisma played a key role in this movie. The makers have informed that the plot of the film revolves around her.
The film also stars Srikanth Iyengar, Rupesh Shetty, Charisma, Bharani Shankar, Jayalalitha, Anita Chaudhary, Raja Ravindra and others in key roles. Cinematography by Venkat Hanuma Narishetti and editor by Kishore Maddali. Sensational music director Gopi Sundar has composed the music for this movie.
Last Updated Mar 14, 2023, 11:30 PM IST
.