New Delhi: Australian Prime Minister Anthony Albanese is on a four-day visit to India. It is in this sequence that India and Australia have announced that they will take steps to fight terrorism together. The heads of both countries agreed to this. Apart from this, it is reported that many important issues were discussed.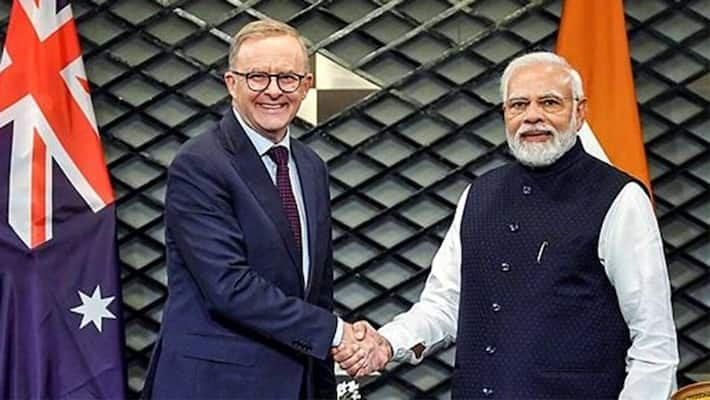 First Published Mar 11, 2023, 1:39 PM IST
India-Australia talk: Prime Minister Narendra Modi and Australian Prime Minister Anthony Albanese discussed terrorism and collective action against internationally banned terrorist organizations at the first annual India-Australia summit. Earlier, Prime Minister Narendra Modi met Australian Prime Minister Anthony Albanese at the Rashtrapati Bhavan in New Delhi and discussed various issues. The heads of the two countries called upon all the countries to work together to destroy terrorist safe bases and infrastructure, disrupt terrorist networks and their financial channels, use of terrorist proxies and cross-border movement of terrorists. The two leaders condemned North Korea's missile launches in violation of United Nations Security Council (UNSC) resolutions. He reiterated that we are committed to complete denuclearization of North Korea.
Both countries pledged mutual support in the candidature for non-permanent seats in the UNSC for the 2028-2029 (India) and 2029-2030 (Australia) terms. The Prime Minister of Australia has made it clear that he will support India's candidature for permanent membership in the UNSC. They expressed concern over the deteriorating situation in Myanmar and called for an immediate end to the violence. In a statement, Prime Minister Modi said that he has brought to the attention of the Australian Prime Minister the issue of temple destruction in Australia. Prime Minister Modi said that for the past few weeks, reports of attacks on temples have been coming regularly from Australia, and such news should naturally worry everyone in India.
The two Prime Ministers discussed economic and trade cooperation. Matters like climate, energy, science and technology-research cooperation, people-to-people relations, covid-19 pandemic, regional-multilateral cooperation are the major topics of discussion in both the countries. Meanwhile, the Prime Minister of Australia visited Mumbai as part of his four-day visit to India. He was presented with a 'tiffin box' (popularly known as a 'dabba' in Mumbai) at the India-Australia CEO Forum. Traditional canners in Mumbai are a team of 5000 people who transport homemade food between consumers' homes and their offices every day. Dabbawalas have been operating in Mumbai for more than 120 years.
Last Updated Mar 11, 2023, 1:39 PM IST
.