Guppedantha Manasu: The serial Guppedantha Manasu which is being aired on television is very impressive to the audience. The serial continues with the love story between a lecturer and a student in a college. Now let's find out what happened in today's March 7th episode.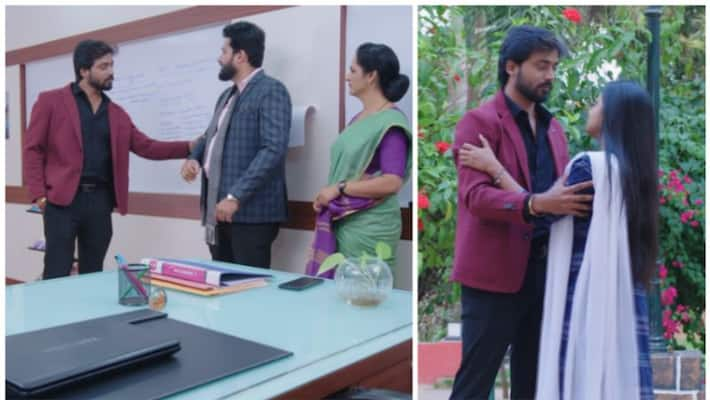 First Published Mar 7, 2023, 7:39 AM IST
In today's episode, the Minister calls Rishi and congratulates you. What do you mean, sir? What do you mean, Rishi? I saw the news in the media. He says first I was surprised to know that you both got married then I was very happy. She says that if we call Vasudharaki and ask her to come here, we will take our Rishi sir's permission. Rishi says ok you both come to my house for dinner means ok ok. What should I say when this Vasudhara Minister calls me, why is he asking me for permission? He is wondering if he actually came to college or not.
On the other hand, Mahendra holds Vasudhara Rishi's photo in his hand and says where should I put this, i.e. put it wherever you want, i.e. your anger has come to that Rishi, i.e. Mahendra says whatever you call me, don't say anything to my son. Then Mahendra would be talking like a tinkerer. After that both of them were pasting that post together, meanwhile Rishi came and then Mahendra stood in the way to prevent the poster from being seen. Mahendra says what are you doing here, we came here. Then Rishi asks if Madam Vasudhara hasn't come yet, did she inform you that she didn't get anything. Jagati says no why didn't you tell me.
Then Rishi is surprised to see the photo saying that I will see what is covered and what is not. Rishi says Jagati says we have come to paste the post given by the students here, if you don't like it then let's remove it, Mahendra says why should we remove it. Then saying don't remove that poster keep it like this Rishi pastes the poster and is happy to see it. After that, Rishi thinks why Vasudhara did not come and call him and ask him. Jagati asks Rishi why Vasudhara did not come to college but I didn't say anything. Jagati thinks that she loves him like a mountain on the inside, but speaks angrily on the outside.
Then Jagati called Vasudharaki why didn't she come to college Vasu Md Garu was next to her and said why didn't she come to college, she says she doesn't want to come ma'am. Then Jagadi is having a funny fight with Vasu Rishi on the phone and Jagati gets lost in thought as she does not know what to say. It seems that this fight is not going to stop like this. Vasudhara says if you don't come to college, you should inform me once, why is your MD getting so tense, Rishi sir has love for me as much as anger, says Vasudhara. After that both Jagati and Mahendra are sad thinking about Rishi and Vasudhara. Jagati dares Mahendra that both of them are good lovers and no one can break their bond.
On the other hand, Rishi is driving thinking what happened to Vasudhara, why didn't he come to college. On the other side, while Vasu is thinking about what happened, Chakrapani comes there. Chakrapani says, "What are you thinking? There is nothing to do, father. I mean, let's think that everything that has happened is for our good." Rishi came and honked the horn of the car, and Vasudhara happily went near the car. Then Vasudhara runs and falls down while Rishi comes and catches Vasudhara.
Rishi says can you come slowly, did you come? That means if I come floating in the wind, sir, let's go, we have work outside, Rishi says. . Later Devayani gets tensed thinking about Rishi.
Last Updated Mar 7, 2023, 7:39 AM IST
.