Kavita is likely to take a decision on the Delhi visit after the ED reply. It is known that ED officials have issued notices to Kavitha in the Delhi liquor scam.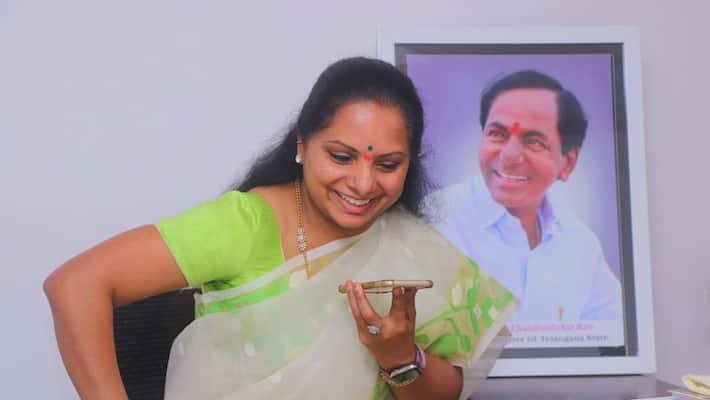 First Published Mar 8, 2023, 2:32 PM IST
Hyderabad: BRS MLC Kavitha is likely to take a decision about going to Delhi after seeing the ED's response. Kavita is scheduled to go to Delhi this evening as per the fixed schedule. But the ED officials have issued notices in the Delhi liquor scam. The notice stated that he should come for the hearing tomorrow. Kavitha responded to this matter. Kavitha informed the ED officials that she will not be able to attend the hearing tomorrow and wrote a letter to the ED saying that she will attend the hearing after the 15th of this month. Kavitha is waiting for the response of ED officials on this letter.
Kavitha is taking legal advice on what to do if the ED officials definitely ask her to come for investigation tomorrow. There is no problem if the ED officials give another date for the investigation as requested by him. However, she will also discuss with KCR what kind of answers should be given to the investigating officers regarding the Delhi liquor scam. This evening she will meet KCR at Pragati Bhavan.
Kavita will visit Delhi as per the decision of ED officials. Bharat Jagruti Samiti has organized an initiative to introduce the Women's Reservation Bill in this Parliament session itself. Kavitha organized this initiation on 10th of this month. Leaders from various parties will participate in this initiative.
also read: Kavita made Telangana bow down.. Liquor scam in the guise of Bathukamma: YS Sharmila
ED officials arrested Arun Ramachandrapillai yesterday in the Delhi liquor scam. The ED has mentioned the key points in the remand report of Arun Ramachandrapillai. This remand report says that Arun Ramachandrapillai admitted during the investigation that he acted as Kavita's representative.
Last Updated Mar 8, 2023, 2:32 PM IST
.