Sharmila got fired over MLC Kavita. Her initiation was hilarious. They criticized that it started as initiation because they got caught in the scam and got arrested later.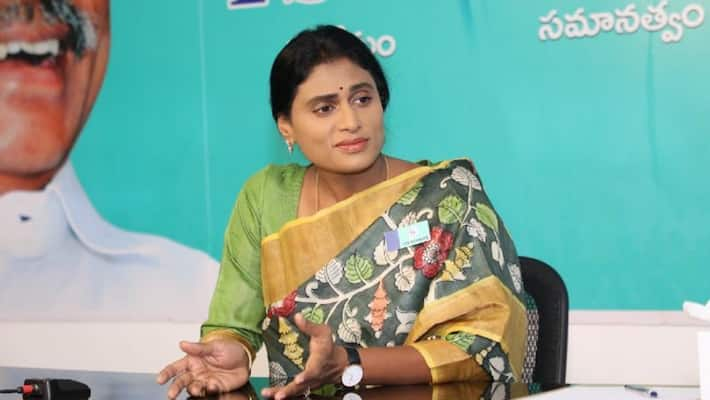 First Published Mar 10, 2023, 12:48 PM IST
Hyderabad: YSR Telangana Party President YS Sharmila was furious over MLC Kavitha's initiation for the Women's Reservation Bill. It was all dismissed as ridiculous. KCR, BRS and Kavitha have no respect for women. If there is any respect, has BRS implemented 33 percent reservation? You have to look first.. he said. After the formation of Telangana in 2014, there is no women representation in their party. In 2018, it was given to four people. There were no women in the first cabinet and two in the second cabinet.
The real fight should be fought in front of KCR's house, in front of Pragati Bhavan… not in Delhi. Unable to fight with her father, she was caught in the liquor scam, so she put forward the Women's Reservation Bill. She has been in this scam for at least two or three years. Stuck in that case. It is understood that arrests will follow, so now this bill has come forward.
If notices are given on the poem, Telangana women will be called insulted. They are promoting Telangana as a self-respecting fighter. Telangana's self-respect is a poem.. If he really loves women.. If MLC is given to a person who is so talkative, he will not speak. He did not deny that it was so. Kavitha does not talk to Revanth Reddy in Telangana. Sonia is being praised in the centre.. this is strange', they said.
If BJP comes forward on Kanaka Mahila Bill.. All parties are ready to support.. MLC Kavitha
Meanwhile, President of Bharat Jagruti Kalvakuntla Kavitha, who initiated the Women's Reservation Bill at Jantar Mantar in Delhi today, said that women should get a proper place in politics as well. TRS MLC Kalvakuntla Kavitha demanded that the women's reservation bill, which has been pending for a long time, be passed and brought into law. To this extent, she spoke at the protest initiation. She commented that the sky is not half.. Dharani should be half of the opportunities.
'In Indian culture women are given a lot of importance. That's why we mention women first anywhere. The issue of giving 33% reservation bill to women in politics has been pending for many days. The Women's Reservation Bill was introduced in 1996 when Devi Gowda was the Prime Minister. But after all these years it has not yet become a law. The ruling BJP government at the center has absolute majority. If they are sincere about this bill..if they want to make women's reservation bill into law..if BJP comes forward..all parties will support it. Kavitha said that this struggle will not stop until women's reservation is achieved.
Last Updated Mar 10, 2023, 12:48 PM IST
.