Young hero Kiran Abbavaram (Kiran Abbavaram) is entertaining the audience with a series of films. Recently another movie release date has been confirmed. It is going to be released in competition with Ravi Teja's movie.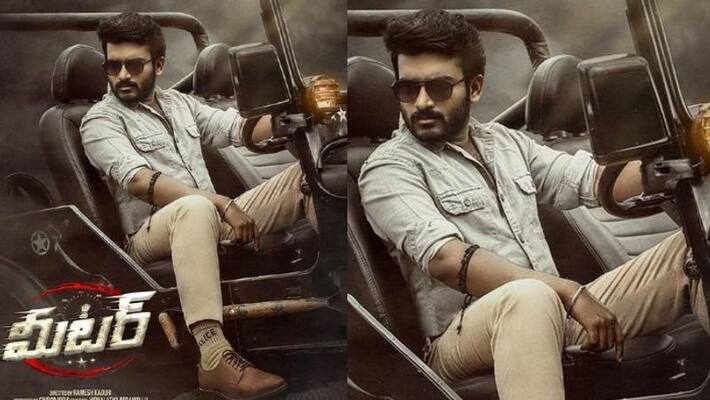 First Published Mar 2, 2023, 4:05 PM IST
Tollywood young and talented hero Kiran Abbavaram is getting a good craze in youth. Although he is a small hero, he is popular with the films and youth content. He is showing his mark by entertaining with back to back films without any gap. Recently, he came before the audience on the occasion of Mahashivratri with the film 'Vinaro Bhagyamu Vishnu Katha'. The film seems to have no cost. With this, he focused on his next film.
'Meter' is the next film ready for release in Kiran Abbavaram's line-up. Directed by debut director Ramesh Kaduri. Naveen Ernenny and Ravi Shankar Elamanchi are the managers of Mythri Movie Makers, a leading production company. Produced by producer Chiranjeevi (Cherry) and Hemalatha under Clap Entertainment banner. Pakka is going to hit the theaters as a commercial film. As the shooting work is almost completed, the film unit has announced the latest release date.
It has been officially announced that Kiran Abbavaram's film 'Meter', which will be seen as a police officer, is going to release on April 7, 2023. The poster released on this occasion is also very grand. Kiran's still and style are impressive. However, this film is going to hit the theaters exactly on the day of the release of Ravi Teja starrer 'Ravanasura'. Ecinema is also going to have a grand release on April 7 as a summer release.
Ravi Teja is already running with a series of hits. He is releasing back to back movies as a senior hero and getting success. Still the vibes of blockbuster films 'Dhamaka' and 'Waltheru Veeraiya' have not diminished. On the other hand, it must be said that Kiran is yet to get a solid hit. At this time, the film 'Meter' is going to be released in competition with Ravi Teja's film, which is creating interest. We have to wait and see to what extent Kiran, who believes in content, entertains with this film. Kiran Abbavaram, who has already appeared as a policeman in 'Sebastian PC 524', is once again trying to impress as a policeman. He is also acting in the movie 'Rules Ranjan'. It is currently in the shooting stage.
Last Updated Mar 2, 2023, 4:05 PM IST
.