A fire broke out in a dump yard in Kochi, Kerala. In this sequence, a large amount of smoke was released. People had to wear masks. A lockdown-like situation has arisen. The health department has also been asked to be vigilant.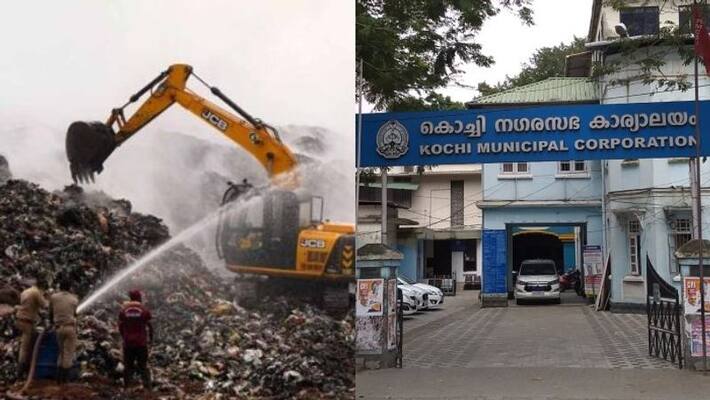 First Published Mar 10, 2023, 10:54 PM IST
Weather conditions in Kochi, Kerala have become alarming. People in the city are afraid to take to the streets. Not coming out except in an emergency. If they come out, they are taking precautions like wearing face masks and full body clothes. This situation is not due to corona virus.. It is not due to the spread of any new disease.. The reason for this situation is that a fire broke out in a dumping yard near the city. A fire breaking out in a dumping yard can lead to such a situation? Why do you think people are so scared?
If we go into the details… last week (March 2) there was a huge fire in the dumping yard in Brahmapuram. The Southern Naval Command said that more than 5000 liters of water was sprayed to bring the fire under control. The smoke from this accident spread all over the city. Even after almost a week, the effect does not decrease. People there are suffocating. It seems that some poisonous and pungent gases were released due to the accident. As these poisonous gases spread in the city, the city turned into a gas chamber.
With this, the situation in Kochi is like a Covid-19 lockdown. People are afraid to even come on the streets. Those seen outside were wearing masks. Children and old people are not coming out. Locals are complaining that they are facing difficulty in breathing due to smoke rising in many places. Many people complained of eye, sore throat and irritation.
Government issued guidelines
Keeping this situation in view, the Kerala government has issued guidelines. The Kerala government has asked people to come out only in case of emergency and use N95 masks if they do. It advised people not to jog outside until the situation calms down. The District Medical Officer has set up a 24×7 control room. Doctors and other employees of the health department have been alerted to help in any medical emergency. Apart from this, all schools and colleges in Kochi and neighboring Ernakulam have been ordered to close.
50,000 tonnes of waste was burnt
It is known that at least 50,000 tons of garbage got burnt due to this fire accident. Fire Department officials said that they have managed to control 70 percent of the smoke in the affected area. Efforts are being made to completely remove the smoke from the remaining 30 percent, he said.
Navy entered the field
About 50 thousand tons of waste including plastic, metal and rubber were burnt. This produces toxic fumes. 200 fire engines are engaged in extinguishing the fire. Navy helicopters were also deployed in this work. According to the sources of the fire department, 70 percent of the fire has been extinguished. Smoke control works are going on in the remaining 30 percent area.
Last Updated Mar 10, 2023, 10:54 PM IST
.