Minister KTR was furious over Revanth Reddy's comments to blow up Pragati Bhavan. He asked if this is the policy of the Congress party.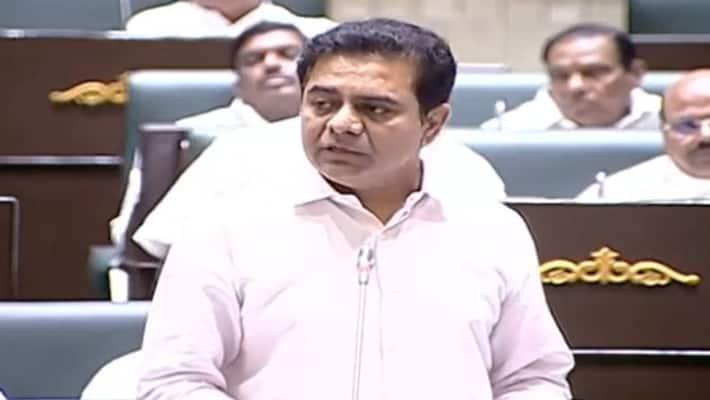 First Published Feb 9, 2023, 2:32 PM IST
Hyderabad: Telangana Minister KTR asked if TPCC chief Revanth Reddy said that Pragathi Bhavan will be blown up.
Minister KTR responded to these comments in the Telangana Assembly on Thursday. He asked whether Revanth Reddy, who is the president of the Congress party, can make such comments. He asked if this is the policy of the Congress party. KTR said that those who will hold the responsibilities as CM of the state will be in Pragathi Bhavan. KTR asked if it is wrong to say that it should be removed and that should be cancelled. Revanth Reddy is saying that he will cancel the dharani. But other Congress leaders are speaking in favor of Dharani, KTR said.
CLP leader Mallu Bhatti Vikramarka, former minister and Sridhar Babu are also corrupt with Revanth Reddy and Dostana. KTR alleged that the PCC chief is doing a raid in the name of RTI. It is said that they have collected crores in Ranga Reddy district. He criticized that Revant is running a conflict with retired officers. Minister KTR said that Dharani is causing problems for people like Revanth who do Dandas. KTR faulted that Congress MLA Sitakka also spoke to strengthen Revanth Reddy's comments.
Meanwhile, former minister Sridhar Babu has falsified KTR's comments and said that if his party comes to power, the policy of his party is to cancel Dharani. He said that there is no difference between them in this matter. But, former minister Shridhar Babu said that KTR is trying to create differences between them.
Also read: Revanth is a broker..people consider him as an item: Errabelli Dayakar Rao's sensational comments
TPCC Chief Revanth Reddy said that there was no damage caused by Maoists blasting Pragati Bhavan during the Padayatra in Mulugu Assembly Constituency. He questioned whether anyone benefited from Pragati Bhavan. Revanth Reddy commented that who is benefited by Pragati Bhavan, which has no access to poor people.
Last Updated Feb 9, 2023, 2:32 PM IST
.