WPL 2023: Gujarat Giants batsmen were fired up in a must-win match to qualify for the playoffs in the Women's Premier League. The bowlers of that team were given a chance to fight.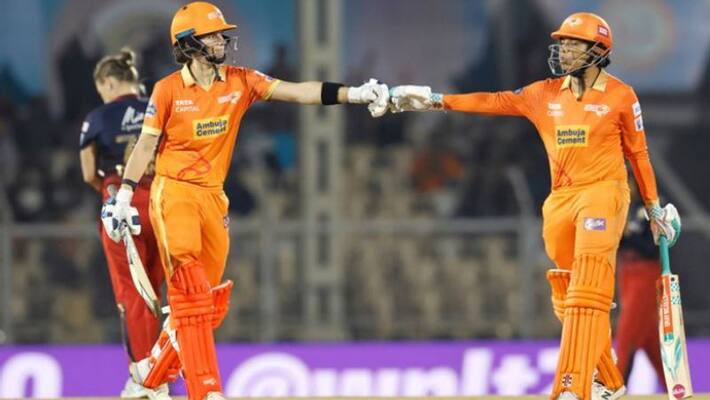 First Published Mar 18, 2023, 9:08 PM IST
In a must-win match to stay in the playoffs race, the Gujarat Lions threw the ball. In the crucial match against RCB, Gujarat Giants who batted first lost 4 wickets and scored 188 runs in the allotted 20 overs. All rounder Ashley Gardner (41 off 26 balls, 6 fours, 1 six) along with opener Laura Volwardt (9 fours, 2 sixes) of the team, Gujarat scored a huge score. Will the Gujarat bowlers save this target? Now that's interesting.
Gujarat Giants opener Sophie Dunkley (16) who won the toss and came to bat hit three big fours. But she was clean bowled on the fourth ball of the third over by Sophie Devine.
Laura Vollwardt led Gujarat's innings with Andhra girl Sabbineni Meghana (31 off 32 balls, 4 fours) who came in one down. With Lara also playing aggressively, Gujarat scored 45 runs for the loss of a wicket in the first six overs. But with the introduction of spinners, Gujarat's score slowed down in the middle overs.
But in the tenth over bowled by Heather Knight, Meghna and Volwarded hit a four each. Meghna, who hit four fours, turned back when Richa Ghosh was stumped in the 12th over by Preeti Bose. Laura-Meghana added 63 runs for the second wicket. In the 14th over bowled by Elise Perry, Vollwardt hit a four off the third ball and Gujarat reached the hundred run mark. Volwardt hit a huge six off the last ball of the same over. This completed her half century in 35 balls. At the end of 15 overs, Gujarat scored 121 runs for the loss of 2 wickets.
Half a century later Volwardt became more agitated. She hit 6, 4 in the 16th over bowled by Megan Schutt. In the next over, she was going to play a huge shot and gave a catch to Preeti Bose and turned back. Gardner hit three fours in the 18th over bowled by Asha Sobhana and got a boundary off the second ball in the 19th over bowled by Shreyanka. But the next ball was caught in front of the wickets. In the end, Harleen Deol (12 not out) and Hemalatha (16 not out) took Gujarat's score past the 180 mark. Harleen hit 4 and 6 in the last over and Hemalatha repeated the same scene. 22 runs were scored in the last over bowled by Megan Schutt.
Last Updated Mar 18, 2023, 9:08 PM IST
.