Prema Entha Madhuram: The Prema Entha Madhuram serial airing on Zee Telugu is winning the hearts of the audience with its good story lines and soaring with good ratings. Let's see what will happen in today's March 6 episode.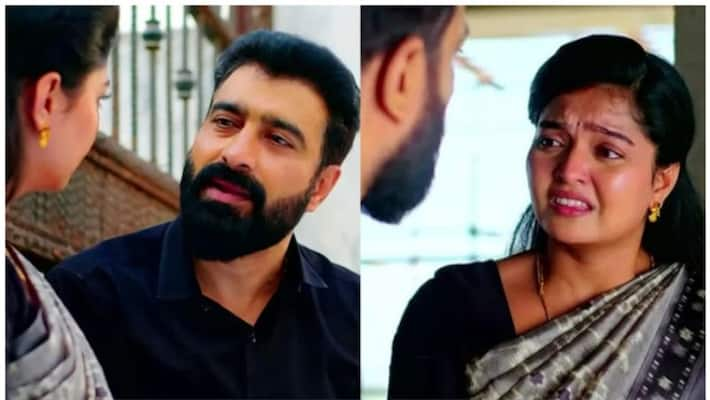 First Published Mar 6, 2023, 12:10 PM IST
At the beginning of the episode, Arya and Ravi send this message to the civil engineer groups on social media and surely someone will come. He says that if we give jobs to those who are unemployed instead of those who have work, there is a chance for our work to be done, surely this will be a workout. Later he thinks in his mind that all this is happening strangely and strangely, it is not a co-incident, but someone seems to be doing it on purpose.
In the meantime, two children came and said that you have been hit, sir, that's why Appu's sister ran to look for you. Anu is not seen there, on the other hand Anu is tied to the chair. Daham Daham means Jalandhar comes there and does not give even a drop of fresh water and now Arya is looking for you there. After searching for a while, footprints are found but they stop halfway.
Again he gets choked up as he has nowhere to look and says this is what I want. Arya returns home in a situation where he can't do anything. On the other hand, Yadagiri, seeing Arya in a low mood, comes there and says that she should not sit idly by and work. Meanwhile Anjali comes there and says what happened Anand why are you disturbed. Arya asks if we sent mail yesterday, did anyone come?
Preeti says no one has come, that means some people have come there and we Civil Engineers have come here after seeing your post yesterday. Then Arya tells them to work and says that if this is successful, I will make you permanent. They start all the work there. Preeti gets upset seeing that. On the other hand a scorpion comes and bites Anu's legs. Meanwhile, Arya shouts "Anu" loudly and as the kids say, Anu must have been trapped by someone. He thinks that it will be the people he knows.
On the other hand, Preeti calls Mansi and says that things are going very fast here, so your plan of not completing the project will not work out. Anjali comes there. Then Preeti and Anjali madam are here and she says she is giving the phone. Then Mansi and Anjali are having the same headache in the board meeting. You can remove that manager's head and put more eyes. That means I have more faith in Anand than in myself. She says don't worry, she will finish the project soon and give it to you.
Mansi gets angry saying that she has more faith in her brother in law than her. On the other hand, Arya took the two children and made them stand in front of the workers and one of them came to Amma and said that they beat me. Then the children show a person. Then as he runs away, Arya goes back and catches him. When she asks him who took Anu, he says that it is Jalandhar. Let's see what happens next in tomorrow's episode.
Last Updated Mar 6, 2023, 12:10 PM IST
.