Prema Entha Madhuram: Prema Entha Madhuram serial airing on Zee Telugu is bursting with good story lines. This story is progressing with good interest and has got top rating. Now let's see what happened in today's March 15 episode.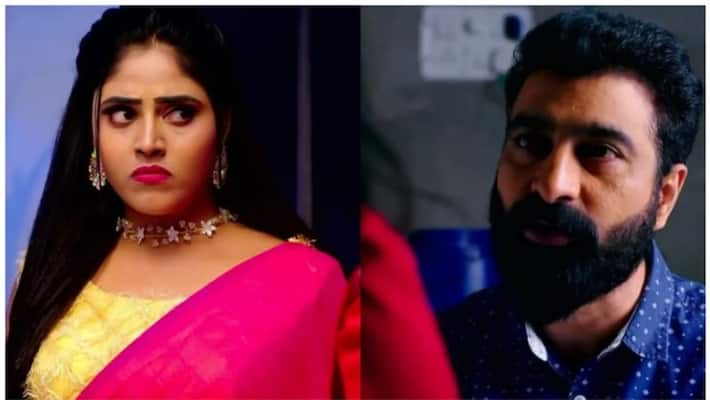 First Published Mar 16, 2023, 10:45 AM IST
At the beginning of the episode, everything is fine with the workers, Arya says, can we blast the bombs for construction? One sees everything in the bioglass to see if anyone is there and there is no one there. He says sir there is no one here we can start work.
Meanwhile, Mansi is watching from behind those hills and thinks that Bro in Law is bringing my death. As soon as the bombs start detonating, they explode in a different direction than the intended one. They think that we didn't put bombs on that side and why are they exploding on that side. Meanwhile, all the mothers in the village came there and all our children were playing there.
Everyone has come back but my son hasn't come yet, he is staying there, save yourself, Saru, says a woman crying. Arya gets scared and immediately goes in between the bombs and searches for the child. The child sits crying in a corner. While Arya's bombs are going in the middle, as the bombs are exploding around, Bro In Law thinks that one of the bombs will fall on you and your death is confirmed.
Meanwhile, Anu comes there and tells the people there what happened. Arya thinks sir.. Anu runs frantically. Even if the people there try to stop her, she goes without listening. Meanwhile Arya finds that Babu after a long distance and somehow escapes and brings that Babu to a safe place.
Then the people there are looking for you and Appu Amma has also left sir, which means Arya gets worried and starts looking for Anu again. Anu is already looking for Arya and her eyes fall back as bombs explode around her. Mansi thinks the bro in law escaped once and this time they are going to get into danger again after coming for the wife.
Meanwhile, Arya is looking for something. Arya picks up Anu and somehow saves him from the middle of the bombs. On the other hand, Neeraj calls Mansi and shouts, "Where are you? Mansi knows there is work, why are you going out at such a time, work will stop?" Mansi says I am coming, I just left. If this opportunity disappears after hanging up the phone, what other opportunity is there?
Mansi thinks that she will make a plan to send both of you upstairs without letting them come home. On the other hand, after bringing Arya safely, his eyes fall back. He does not wake up no matter how much he wakes up. Then the people there bring milk in a big jar and put it on Arya's face. Then Arya gets up and asks what is the condition of your life, why did you come like that, the real Buddha, Anu says that it is not more than your life, sir.
You did a good job saving that buddodi. All the people around say that the merit you have done for you and the child in your womb will also have Sri Ramarakshala. Later Anu goes and hugs Arya tightly. Let's see what happened next in tomorrow's episode.
Last Updated Mar 16, 2023, 10:45 AM IST
.