BENGALURU: Two men carry garlands of lumps of meat to offer to God. However, the security personnel caught them and handed them over to the police. It is known that this was done for supernatural powers.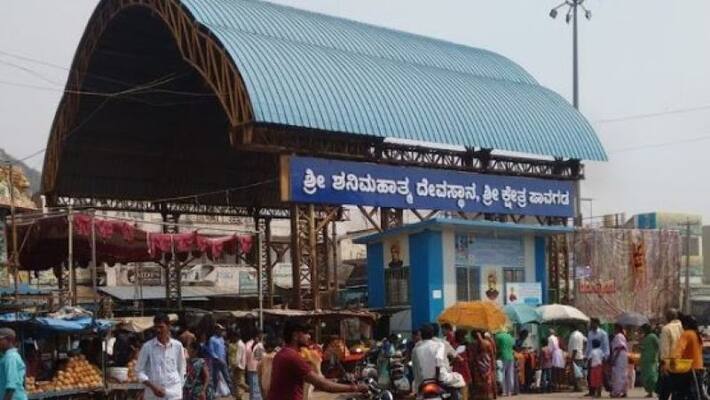 First Published Mar 14, 2023, 1:36 PM IST
Lord Shaneshwara at Sri Shani Mahatma temple: A self-proclaimed godman said it was for supernatural powers and went to offer a meat offering to the deity. Rose flowers are placed around the lumps of meat to make it look like a garland. However, this incident came to light in the detection before offering to God. The security personnel spotted them while offering the mala to the god. This incident took place in Bangalore Rural District.
In details.. Police have arrested two persons who tried to offer a garland of meat with roses to Shaniswar at Sri Shani Mahatma temple in Chikkamadhur, Doddaballapur taluk of Bangalore Rural district. Muniraju (24) from Kambalahalli, Hoskote Taluka, Bengaluru Rural District, and Somasekhar (45), an autorickshaw driver from Whitefield, Bengaluru, reached the temple around 4 pm and were stopped by the security personnel at the parking lot. Both of them made a similar attempt in January and since then the guards have been chasing them. When asked about Mala, they said that they have come to offer to God. However, the guards noticed that under the roses, there was meat in the wreath.
The president of the temple committee, Prakash KV, said that they had come on behalf of a businessman who had suffered a loss and wanted to present garlands to Shaniswar. Both those who came to lay garlands were handed over to the police. But the police story is different. It is learned that a self-proclaimed god advised Muniraja to offer a meat garland to reduce the influence of Shaniswar in a temple in Hoskote taluk. Police said that the man who declared himself as God is absconding. Earlier this year, Muniraju and Somasekhar went to the temple with similar garlands. He said that when the priest went out for lunch, both of them left the garland there.
Last Updated Mar 14, 2023, 1:36 PM IST
.