First Published Mar 16, 2023, 5:29 PM IST
Srinagar: Leaders of Opposition and regional parties of Jammu and Kashmir met on Thursday. Discussed the current situation and future activities in Jammu and Kashmir. They demanded restoration of statehood to Jammu and Kashmir and restoration of rights of Kashmiri people. Together they submitted a memorandum to the Election Commission. In it, the EC was asked to conduct assembly elections in Jammu and Kashmir as soon as possible.
National Conference Chief Dr. Farooq Abdullah, CPM General Secretary Sitaram Yechury, NCP Chief Sharad Pawar, Congress President Mallikarjun Kharge, leaders of CPI and RJD parties also participated in this meeting. Later, they submitted a memorandum to the Election Commission.
In this memorandum, the opposition leaders mentioned important issues. It was explained that for the last five years in Jammu and Kashmir, without electing representatives to the assembly, the governance is going on without an elected government. He said that the government is being run by an unaccountable bureaucracy without public representation, contrary to the spirit of the Constitution, which is not in favor of the common people.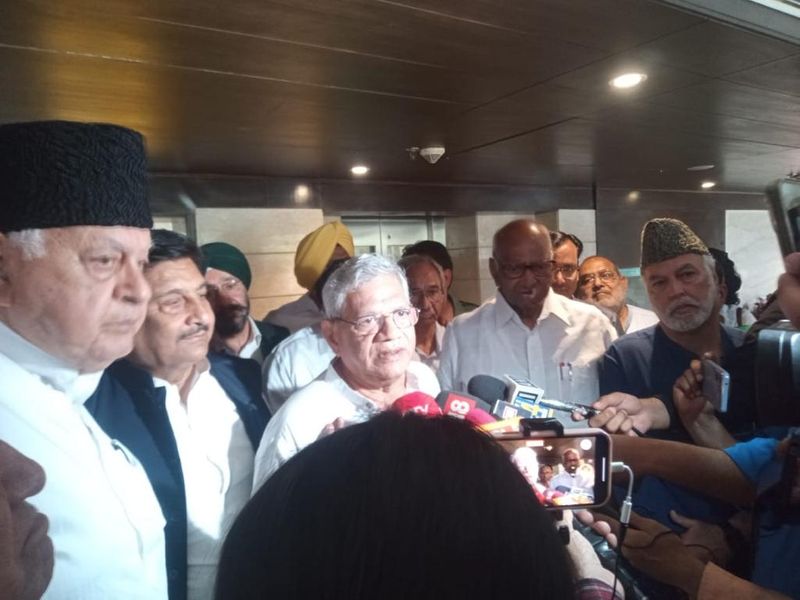 He said that Panchayat elections and Panchayat Raj system elections cannot replace the Assembly elections, therefore, the EC should not interfere with the conduct of Assembly elections. If that was not the case, there would have been no need to conduct the elections in Tripura, Meghalaya, Nagaland and the Karnataka assembly elections before the deadline. The opposition leaders made it clear that since the elections were conducted under the Panchayat Raj system, they are making claims that the system will rule and there is no need for an assembly.
Also Read: If Indian democracy works.. I can speak in Parliament: Rahul Gandhi fires on BJP..
On this occasion, they reminded that the Union Home Minister and other central government leaders have declared many times that they are ready to conduct the elections and commented that the final decision should come from the EC. It was argued that the EC has the constitutional responsibility of conducting the assembly elections in Jammu and Kashmir, and opposing these elections is not only a violation of the democratic rights of the Kashmiri people, but also a violation of the constitutional responsibility.
He said that the representatives of the political parties of the country, including Jammu and Kashmir, are signing this memorandum and they all want assembly elections to be held in Jammu and Kashmir without delay. This is the democratic right of the people of Jammu and Kashmir.
Last Updated Mar 16, 2023, 5:32 PM IST
.