Famous music director MM Keeravani and Chandra Bose created history by winning the Oscar for 'Natu Natu'. In the joy of receiving the prestigious award, he spoke in the form of a song and impressed.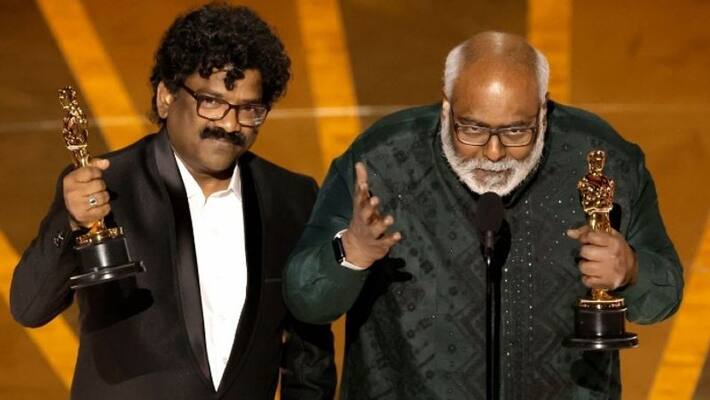 First Published Mar 13, 2023, 9:31 AM IST
Indians got a proud moment with 'RRR'. The expectation of 130 crore Indians has come true. Telugu has won the most prestigious Oscar Award (Oscar 2023) in the world. The sensational song 'Naatu Naatu' won the Oscar award. Famous music director MM Keeravani (Keeravani) and lyricist Chandra Bose (Chandra Bose) received the award at the grand Oscars stage in Los Angeles, America. It must be said that MM Keeravani and Chandra Bose are beyond happy to have won the prestigious award on the international stage. Indian is also proud.
But MM Keeravani and Chandra Bose who went on stage to receive the award impressed with their switch. MM Keeravani forgot the words and expressed her happiness in the form of singing in the joy of getting the Oscar award… 'Thank you to the Academy for giving me the Oscar… I am very happy to receive the award today. There was only one wish in my mind. Along with Rajamouli and our family, 'RRR' has received Oscar to make every Indian proud. Put us at the top of the world. He gave a speech in the form of a song saying 'Thanks to Karthikeya for this.'
On the other hand, lyricist Chandra Bose could not contain his joy. He expressed his happiness by showing the Oscar award to everyone in the hall with uncontrollable joy. At the end, Chandra Bose said 'Namaste' on the stage and spread the Telugu mark. Film stars and celebrities of the country are praising the Oscar win. Every Indian is rejoicing as the proud moment arrives. Also, India got another Oscar award in the category of Best Documentary Short Film through 'The Elephant Whisperers'.
Last Updated Mar 13, 2023, 9:31 AM IST
.