The 85th Plenary Session of the Congress Party is being held in Raipur, Chhattisgarh state. Congress chief Mallikarjun Kharge spoke on the last day of the program. He severely criticized Prime Minister Narendra Modi and industrialist Gautam Adani.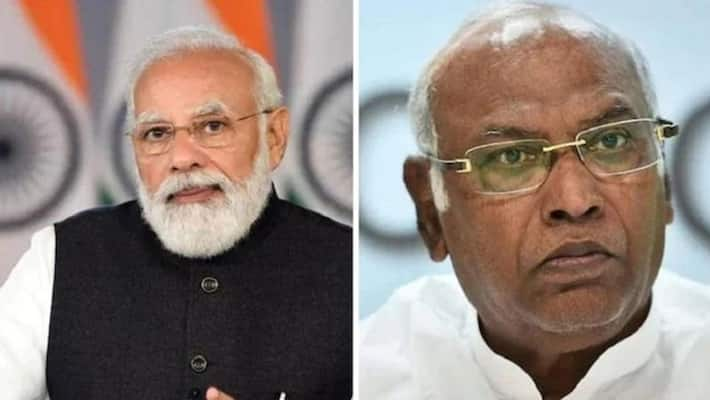 First Published Feb 26, 2023, 4:45 PM IST
Congress National President Mallikarjun Kharge has accused Prime Minister Modi of giving money and assets of the people of the country to industrialist Gautam Adani. He was addressing the 85th plenary meeting of the Congress in Raipur, Chhattisgarh on the third day. On this occasion, he spoke targeting BJP and Adani. He said that only a few people are looting the property of this country. Prime Minister Modi accused us of buying each property and giving it to someone.
Election official killed in Meghalaya road accident, many injured
"That Adani was made so big. Today that person has become fat like an elephant," said Mallikarjun Kharge. In the same meeting, Congress MP Rahul Gandhi said that he questioned how businessman Gautam Adani reached the second position in the list of the richest people in the world during the parliamentary sessions. "He (Adani) got all the advantages that no one else got. I only asked what is the relationship between the Prime Minister and Adani. All the BJP workers started defending Adani. Those who attack Adani are called 'traitors'.
From the India Gate: Traders of dreams in Congress, notices to Hanuman, SP mein ka baa..
Rahul Gandhi said that no one can ask questions about Adani in Parliament, but they will keep asking questions until the truth comes out. Rahul Gandhi said that all the wealth of the country is going in the hands of one person, ports, airports, infrastructure and other important projects are all going in the hands of Adani. He reminded that even in Australia, photos of Prime Minister Modi with Adani were seen in protests. He said that SBI had agreed to give a huge loan to Adani there. They asked why Modi went among them. Modi asked what is needed there. It was also mentioned that the photos of Modi sitting on the Adani plane came out.
On this occasion he mentioned Bharat Jodo Yatra. I learned a lot on this trip. I walked from Kanyakumari to Kashmir for my country. Thousands of people connected to me and the party during the trip. I have heard all the problems of the farmers. I know their sufferings" he said.
Many countries are looking towards India's UPI – PM Narendra Modi
Rahul Gandhi said that Prime Minister Modi said that India's tricolor flag was hoisted at Lal Chowk, but he did not understand the difference. He said that Narendra Modi hoisted the tricolor with 15-20 people from BJP, but 'Bharat Jodo Yatra' hoisted the flag with lakhs of Kashmiri youth.
Last Updated Feb 26, 2023, 4:45 PM IST
.