Remembering the Naxalite attack on the Bommala Ramaram police station in 1999, Main Sentry Gutta Venkat Reddy, who fought at the risk of his life, was recently congratulated by Rachakonda Commissioner DS Chauhan. DS Chauhan was working as Nalgonda ASP when the attack took place.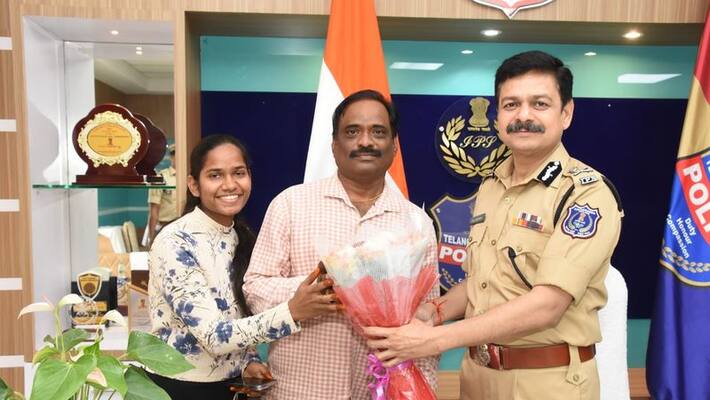 First Published Mar 4, 2023, 6:50 PM IST
HYDERABAD: In 1999, armed Naxalites attacked the Ramaram police station of the joint Nalgonda dolls. Constable Gutta Venkat Reddy was among the seven police personnel who fought the Naxalite attack with their lives. Rachakonda Commissioner DS Chauhan, IPS recently recalled the incident of yesteryear. Gutta Venkat Reddy was called to his office in his administration and felicitated. Then DS Chauhan worked as Nalgonda ASP.
On January 30, 1999, Bommala Ramaram PS was suddenly attacked by armed Naxalites. Gutta Venkat Reddy was the main sentry when the attack took place. Then there was a fierce fight from midnight to dawn. More than forty personnel participated in that fight. Constable Gutta Venkat Reddy along with six other staff bravely faced this attack. Even though a bullet landed in his leg, he fought for his life without counting. In that heroic fight, the police station and its staff were saved from the Naxalites.
Also Read: Student dies in Keshavareddy School.. Ma Babu's arm is broken, lung infection too: Father's allegations
There was no loss of life on the part of the police in this attack. Meanwhile, two Naxalites were killed from the attacking side. Commissioner Rachakonda said that the department will always remember the bravery shown by the police in dealing with that attack and the government will stand by the police who fought in that attack. He said that they will also be given due recognition.
Venkat Reddy is currently working as SI in Nalgonda district. Speaking on this occasion, Venkat Reddy said that Chauhan used to give advice to the lower level staff when he was ASP.
He assured Venkat Reddy to contact him in case of any danger. Moreover, he congratulated Venkat Reddy's daughter Sneha Reddy, who is preparing for civils, and promised to provide necessary guidance and encouragement for the preparation.
Last Updated Mar 4, 2023, 6:50 PM IST
.