BRS MLC Kavitha is acting strategically after the Enforcement Directorate has once again issued notices to her in the Delhi Liquor Scam. An emergency petition will be filed in the Supreme Court tomorrow.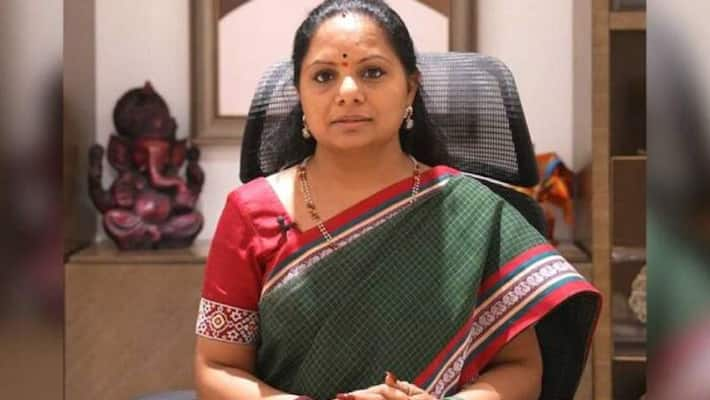 First Published Mar 16, 2023, 8:40 PM IST
BRS MLC Kalvakuntla Kavitha will once again approach the Supreme Court tomorrow. Kavitha will ask the Supreme Court to hear her urgent petition as the ED has given notices to come for hearing on 20th of this month. To this extent, Kavita's lawyers will appeal to the bench headed by CJI Justice DY Chandrachud. In her petition, Kavitha will state that the ED is acting in violation of the law to cancel the notices given to her. It is known that the Supreme Court has said that the hearing will be held on the 24th of this month on the petition already filed by MLC Kavitha regarding the ED investigation.
Meanwhile, there are opinions that Kavitha acted strategically in sending information to the ED at the last minute that she would not be able to attend the hearing today in the Delhi liquor scam. Kavitha absented herself from the trial by asserting her rights while interrogating the women. However, the ED responded to this and issued a notice to Kavitha to appear for investigation on the 20th of this month. First, Kavitha appeared before the ED on 11th of this month. At that time, the ED officials questioned Kavita for more than 9 hours. It is in this context that Kavitha has to attend the ED inquiry today. However, Kavitha, who is currently staying at her father, Telangana Chief Minister KCR's residence in Delhi, was absent from the investigation.
ALSO READ: Delhi Liquor Scam: Come for hearing on 20th.. ED notices to MLC Kavitha again
In this order, Kavitha wrote a letter to the ED officials. Many points were mentioned in it. It is known that the Supreme Court has adjourned the petition filed by Kavitha challenging the summons issued by the ED to March 24. This matter is also mentioned in Kavitha's letter. He said that nowhere in the summons has it been mentioned that he should come in person.. He said that he is sending Bharat to the ED office as his representative. He said that he is also sending the details asked in the summons through Bharat.
BRS general secretary Soma Bharat, who reached the ED office in this order, said that Kavitha will not appear before the ED today. Calling her to the ED office is illegal, he said. He said that he will appear only after the Supreme Court verdict on March 24. It has been clarified that there is no fact that Kavita is not attending the trial due to illness.
Last Updated Mar 16, 2023, 8:40 PM IST
.