A leave letter written by an inspector from Uttar Pradesh to SP is going viral on social media. He explained that his wife was angry and had never taken her to her mother's home for any Holi festival in their 22-year marriage. Please understand his situation and problem and ask him to give leave.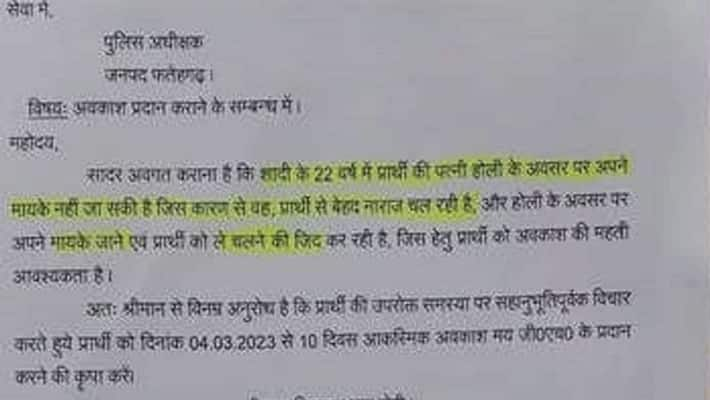 First Published Mar 8, 2023, 3:08 PM IST
New Delhi: Police are busy with their duties every day. They become more busy during the same festival days. That is why they rarely celebrate festivals. Even if they are immersed in fulfilling their duties responsibly, some responsibilities from the family keep them in a quandary. An Uttar Pradesh inspector who faced a similar problem wrote a leave letter to the above officer. That leave letter is going viral on social media.
An inspector from Farrukhabad district wrote a letter to the SP stating the problem in his marital relationship. He said that his wife was angry that she had not celebrated Holi at her in-laws' house for the past 22 years. It was explained that this time too, taking her and going to her in-laws house was doubtful. He said that he could not go because he did not have holidays.
Also Read: Festival with fists on Holi.. Mopping the burning blood with ashes.. Do you know somewhere in Telangana?
Inspector Ashok Kumar's letter to the SP reads as follows. 'In my 22 years of married life till now I have not been able to take my wife to her mother's house on Holi. So, she could not celebrate Holi at her mother's house. That is why she is angry with me. She was pressing to go this time for sure. But, I can't go there without vacations. So, understanding my problem and my situation, I request you to give me ten days of casual leave', the viral letter said.
After reading this leave application, SP Inspector Ashok Kumar was not given ten days leave. But, five days casual leave was granted. These holidays were granted from 4th March.
Last Updated Mar 8, 2023, 3:08 PM IST
.