The 13th Mr. Junior Body Building Competition held in Madhya Pradesh turned out to be Congress versus BJP. Female body builders posing in front of Hanuman's photo has become a cause of controversy.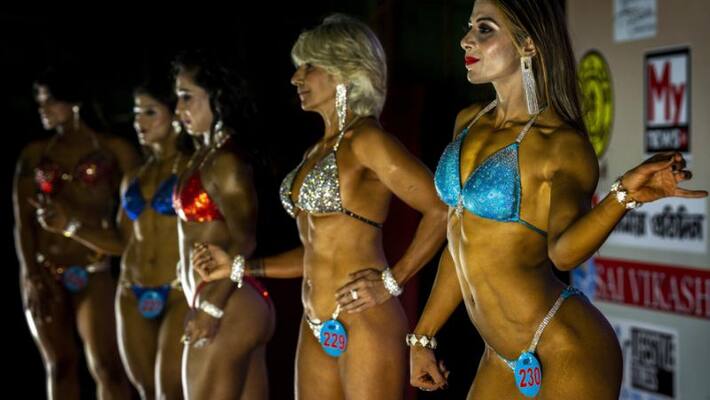 First Published Mar 7, 2023, 8:43 AM IST
Ratlam: Congress workers on Monday sprinkled 'Ganga water' on the stage of a bodybuilding competition organized by the Bharatiya Janata Party in Ratlam, Madhya Pradesh. Purification program was conducted. It seems that the reason for this is that the female bodybuilders have been accused of insulting the celibate Lord Hanuman in the name of sports.
The 13th Mr. Junior Bodybuilding Competition was held on 4th and 5th March. Female bodybuilders who participated in those competitions posed in front of Hanuman's photo. Protesting this, local Congress leaders sprinkled 'Ganga jal' on the spot and chanted 'Hanuman Chalisa' after the contests," party workers said.
In the invitation letter for this program… the organizing committee includes city BJP mayor Prahlad Patel and legislator Chaitanya Kashyap. A video of the event, which surfaced on social media during the day, showed female bodybuilders posing. Reacting to this, former mayor and Congress leader Paras Saklecha accused Patel and Kashyap of promoting "indecency". District Youth Congress Committee President Mayank Jat said that Lord Hanuman will punish the perpetrators of this incident.
Kerala CM.. Modi in dhoti.. Congress condemns police attack on Asianet office
State BJP spokesperson Hitesh Bajpai was angry about this and said that Congress does not want women to excel in sports. However, some event organizers submitted a memorandum to the police demanding action against the Congress leaders. In a video released in this regard, Bajpai said.. "Congressmen cannot see women participating in wrestling, gymnastics or swimming, because the demon in them wakes up. They see women in the playground with a perverted view. Are they not ashamed to see that?" He asked.
Meanwhile, MP, Congress chief Kamal Nath and media adviser Piyush Babele have demanded an apology from Chief Minister Shivraj Singh Chouhan, alleging that the program held on the occasion of Chief Minister's birthday on Sunday disrespected Hindus and Lord Hanuman. Babele says his party will boycott Bajpai from televised debates for "supporting obscenity".
Last Updated Mar 7, 2023, 8:43 AM IST
.