Balakrishna participated as a guest in the pre-release event of Shivarajkumar starrer 'Veda'. On this occasion, he entertained by speaking in Kannada for a while.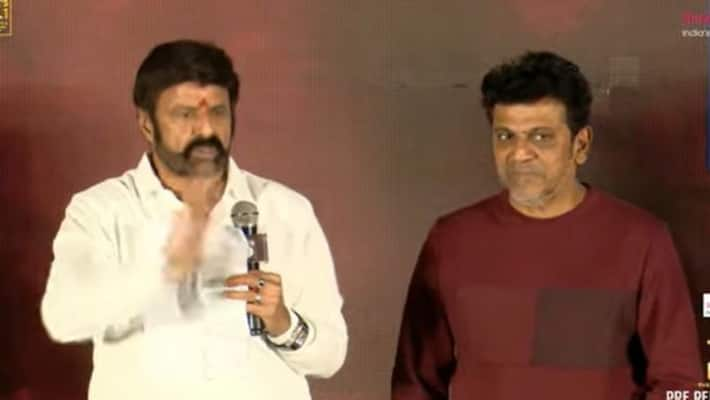 First Published Feb 7, 2023, 10:46 PM IST
Balakrishna spoke in Kannada. Even if he doesn't understand it, he can write it on paper and speak in Kannada too. Balakrishna participated as a guest in Shivrajkumar's `Veda' pre-release event held in Hyderabad on Tuesday. On this occasion, he spoke in Kannada for a while and surprised Shivrajkumar and all the team. But Balayya first spoke in Telugu. Congratulations to all the team.
Balayya, who specially congratulated the director, also interacted with the cinematographer, music director, editor and the heroine. They laughed by making satires and comments on the heroine. Also, addressing Shivrajkumar as a younger brother and his wife as Maradalu was a highlight. Balayya, who spoke very coolly, ensured that his speech was free of any controversy. They managed to control it even though they slipped a bit in the middle.
In this event, he congratulated the film team in Kannada. Writing in paper and speaking in Kannada while watching on stage is a privilege. Shivraj Kumar who was next to him was surprised by this. Moreover, speaking mentioning the name of each and every noted artist who acted in the movie is another feature. We brag about doing something. But Puneeth Rajkumar (Shivarajkumar's younger brother) never boasted about himself, he said that he did many social activities. He congratulated Shivrajkumar's family.
He said that the audience is dying for movies with good content, and many movies are already receiving such reception. "Veda" was a big success in Kannada and will be popular here as well, Telugu audiences always appreciate good films, he said. It has been revealed that the films coming with good content will be pan-Indian. He roared on stage. He made a fuss in his own style and made people laugh.
Meanwhile, Shivraj Kumar impressed by singing the song "Pushpa" from the movie. Moreover, steps have been taken for it. And the movie 'Veda' made in Kannada was a great success there. It was released there on December 23 and created a sensation. Now after about a month and a half it is being released in Telugu and other languages. The movie will release on February 9. It was directed by Harsha and starred Ghanavi Laxman opposite Shivraj Kumar. This movie will be released in Telugu by Kanchi Kamakshi Calcutta Kali Creations. Produced by Geethashivrajkumar.
Last Updated Feb 7, 2023, 10:50 PM IST
.