ICC Rankings: Ravichandran Ashwin as ICC No.1 bowler.. James Anderson who lost the top place within a week! Jaddu tops as No. 1 all-rounder in Tests.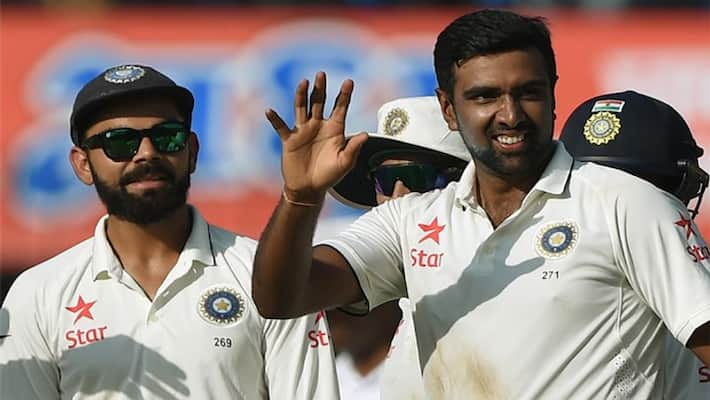 First Published Mar 1, 2023, 2:04 PM IST
Team India's players continue to dominate in the ICC rankings. James Anderson's failure to impress in the second Test against New Zealand came well for India's veteran spinner Ravichandran Ashwin. The 41-year-old James Anderson, who became ICC's No.1 Test bowler last week, dropped to the second position.
Ravichandran Ashwin, who was at the second position, climbed to the top with 864 points. Last week, there was only a 2-point difference between Ashwin, who was second in the ratings, and James Anderson, who was at the top. But after the end of the second Test against New Zealand, Ashwin rose to the top after losing 7 points…
While Pat Cummins remains at the third position in the Test bowlers' rankings, Jasprit Bumrah, who missed out on the Border Gavaskar Trophy, has moved up to the fourth position. Shaheen Afridi is fifth while Ravindra Jadeja is in top 8…
Joe Root, who exploded with a century in the Test against New Zealand, jumped into the top 3 in the rankings of ICC Test batsmen. Steve Smith is second while Marnus Labushane remains on top. Babar Azam dropped to the fourth position.
Rishabh Pant, who was the top 6 Test batsman last week, dropped to the 8th position and Rohit Sharma, who was in the top 7, dropped to the 9th position. Ravindra Jadeja tops the Test all-rounder rankings with 460 points, followed by Ravichandran Ashwin. Akshar Patel is in the top 5 all-rounders rankings.
The Indian team, which is the No. 1 team in ODIs and T20Is, will rise to the top spot in Tests as well if they can defeat Australia in the third Test. Suryakumar Yadav is in the top place in T20s while Mohammad Siraj is the No.1 bowler in ODIs. Hardik Pandya is the No. 2 all-rounder in T20.
Last Updated Mar 1, 2023, 2:05 PM IST
.